How to Transfer a PPF Account from One Bank to Another?
6 min read • Published 25 November 2022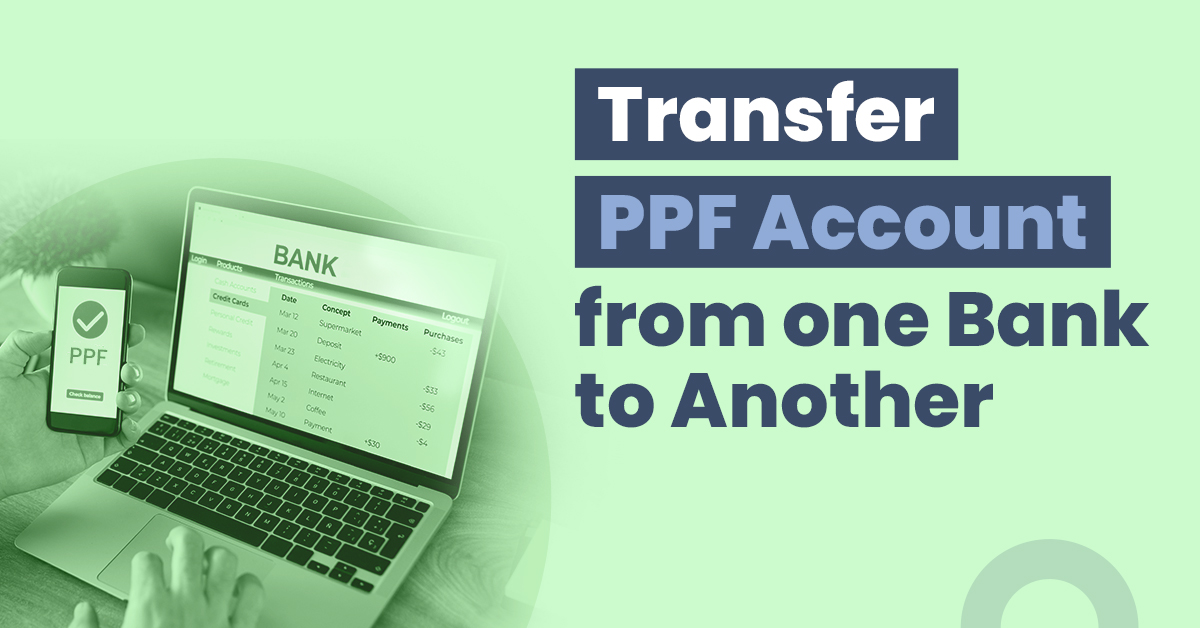 A public provident fund account is often the default choice for many when creating a long-term corpus. There are many reasons for choosing it, including the lower risk on investment and tax benefits. As a traditional investment option, PPF has few matches.
You can open a PPF account with a post office or a bank. Further, one account can only be registered in a single individual's name, except where a guardian or parent creates an account on their child's behalf.
However, a common question often asked by investors is what happens to the account when they change jobs or shift cities. The good news is your PPF account is portable. You can transfer it across cities, from the post office to a bank or from one bank account to another.
That being said, many aspects of your PPF account are offline. Transferring a PPF account from one bank to another is a case in point. While this essential process is relatively straightforward, you must still know its details. Through this article, let us explore how to transfer a PPF account from one bank to another.
Also Read: How to Check Your PPF Account Balance
Step by Step Process to Transfer the PPF Account
The below steps will decode how to transfer a PPF account from one bank to another.
You will need to visit the home branch where your account is being held and collect the transfer request form.
Fill in the complete information about your PPF account and the full address of the bank to which you wish to transfer your account.
Once the form is submitted, the transfer process will be initiated by the bank where your account is presently held. This process may take up to a week.
Next, your current bank will send a list of documents to the new bank. These include:
Nomination form.
Your PPF passbook.
Certified copy of your account.
Specimen signature.
Original account opening application form.
A cheque or demand draft for the outstanding balance.
Once your new branch receives the required documents, you will be notified of their receipt.
Since the process is not digital, your new bank will require further KYC verification. You must submit a KYC form with all the required details and physically visit the bank to complete the process.
After the KYC process, the transfer will be completed roughly within a month.
When you transfer a PPF account, the process is entirely offline, with no online alternative. This limitation poses challenges in an age where almost every investment option has migrated online. However, the tax benefits and low risk make PPF a worthy choice.
Also Read: What is PPF – Public Provident Fund
How to Change Nominee Name in PPF Account
The information about nominees is crucial when it comes to PPF investment. Nominees are entitled to the corpus you have created in case something unfortunate happens to you before maturity. This fund may help your family stay financially afloat while they go through a difficult time. Hence, ensure you fill out the nomination information carefully, and if you want to change the same, do it promptly. Let us learn more about why you may wish to change your nomination information and how to go about it.
You may file for nominee change under the following circumstances:
In the event of the nominee's death.
Nominee change due to separation/ divorce etc.
Nomination changes from spouse to the child.
Nomination changes from one parent to the other.
Nomination changes from parent to spouse.
Follow the steps listed below to change the nominee information on your PPF account:
You have to physically visit your point of contact (bank branch or post office) to collect Form F.
Fill in the form with relevant details, including the name and address of your new nominee. As the nomination details are crucial, be highly cautious while filling out the same.
The nomination details will be changed in a few days, and the bank or post office will notify you.
Also Read: PF Transfer Online: Learn the Step-by-Step Process
Final Thoughts
The above steps explain your PPF account transfer from one bank to another and how you can change the nomination details. People often tend to put off doing these processes since they are offline, but doing the needful is vital in ensuring you get the best out of your PPF account.
FAQ
Is it possible to transfer the PPF account to your child's name?
There is no provision for transferring a PPF account to your child's name. But instead, you may add your son as a nominee. If your child is below the age of 18 years, you may try opening a new PPF account in their name. But there are some limitations on the tax benefits as the interest income, in this instance, becomes taxable.
Is it mandatory to have nominees in your PPF account?
While not required, it is advisable to appoint a nominee to avoid conflicts in the event of your untimely demise or to ensure a smooth transfer of funds to the desired person.
Can I open two PPF accounts?
The current PPF laws don't allow you to open two PPF accounts simultaneously. Till 2019, you had the option to merge two PPF accounts opened in banks and post offices as one.
What is the role of the bank once I raise a PPF transfer request?
Once you have filled in the form and finalised your request, the current branch will send the necessary transfer documents to your preferred new bank/branch. The new bank will process the documents received and initiate a further KYC verification before declaring the transfer complete.
How much time does it take to transfer a PPF account from one bank to another after I submit all the documents?
After document submission, it would take between one to seven days for the account to be transferred from one bank to another, from the post office to the bank or vice-versa.
How many nominees are allowed for one PPF account?
You may appoint one or more nominees for your PPF account. In case the number of persons is more than one, you must specify the percentage of shares held by each in your PPF account.