How to Check Your PPF Account Balance?
7 min read • Published 25 November 2022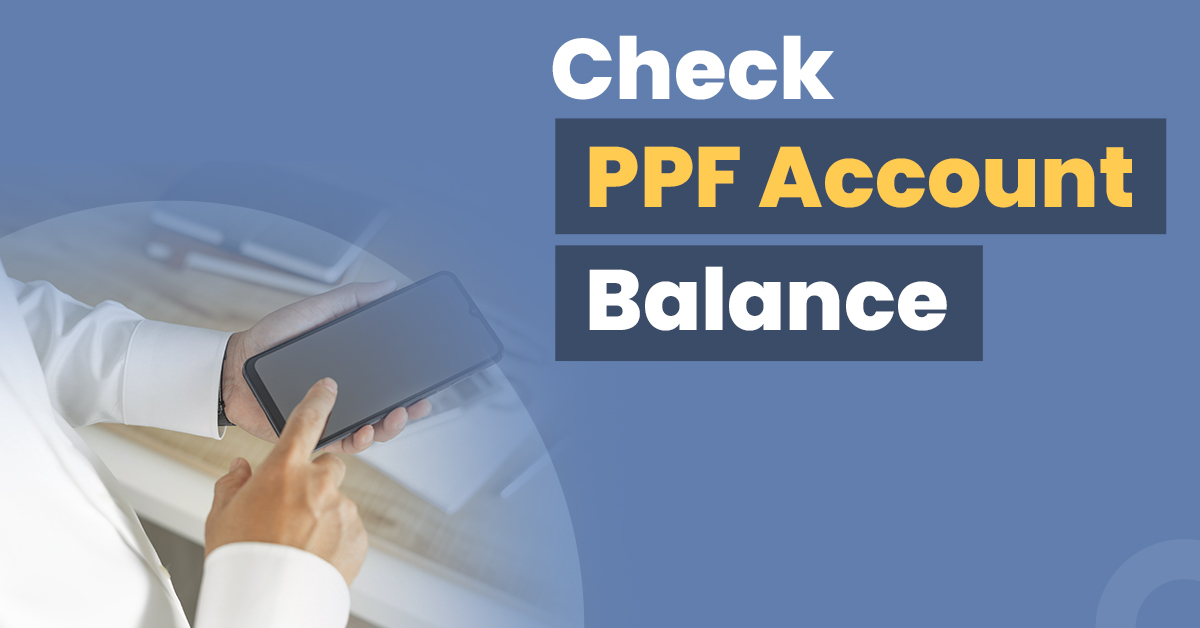 A public provident fund (PPF) is a fixed-return investment instrument initiated by the Government of India to mobilise small savings. It offers a fair interest rate on a deposit and attractive tax benefits, due to which it is a preferred mode of investing for many. Also, with its long-term lock-in period and restrictions on premature withdrawal, it is an excellent tool for inculcating financial discipline.
The term "provident" stands for "timely preparation for the future." True to its name, it can be used to build a retirement corpus by making periodic contributions and gaining low risk returns.
While it is a popular investment tool, you often don't make it a habit to check your PPF account balance periodically. However, it is essential to do so to track your savings and plan your investments and finances accordingly.
What is PPF Balance?
As you might be aware, you must deposit a minimum of ₹500/- in your PPF account annually. It comes under the Exempt-Exempt-Exempt (EEE) category of investment vehicles.
The amount deposited in this account is exempt from paying income taxes up to ₹1.5 lakh annually. Even the interest income in this account is exempt from income taxes. Further, there is no tax charged at the time of withdrawal.
Therefore, it is widely used to create a retirement fund for many. It is important to keep tabs on it in order to plan your investments as per your changing needs and market movements.
Things Required for Checking your PPF Balance
You can check your PPF balance both online and offline.
Depending on the mode you want to choose, there are some things you will require to check your PPF account balance:
Firstly, it is convenient to have a PPF account and a savings account with the same bank.
The two must be linked to be able to check the PPF account balance online.
Thirdly, your savings account must have an activated net banking facility/bank mobile application.
Finally, you will need net banking credentials and a PIN to be able to access your PPF account details from your linked savings account.
You can also check your PPF account balance offline. For that, you will need a passbook.
Ways to Check Your PPF Balance
You can check your PPF balance through multiple methods:
Online
Offline through a bank branch
Offline through the Post Office
You can learn about each of these ways by reading the below:
How to Check the PPF Balance Online?
To be able to check the PPF balance online, you must have a savings bank account linked to the PPF account. Also, the net banking facility must be activated for the corresponding savings account.
You must follow the below steps to check your PPF account balance online:
Log in to the PPF portal of the bank where you have your PPF.
On logging in, go to the tab containing details of the PPF account.
You can see the account balance, interest earned and all previous transactions such as deposits and withdrawals here.
How to Check Your PPF Balance Offline?
You can check your PPF balance by visiting the bank where you have your PPF account. You can visit any nearby branch of the same bank with your passbook. 
When you get your passbook updated, it will contain the details of all transactions, including deposits and withdrawals from the account.
Some banks provide 24×7 passbook update facilities via DIY kiosks.
How to Check PPF Balance through the Post Office?
If you are in a remote area with minimal access to bank branches, or perhaps the mobile network and the internet, you can check your PPF account balance through a nearby post office. You just have to share your passbook for updating. The updated passbook will contain the details of the transactions on your PPF.
How Important to Check the PPF Balance?
Checking the PPF balance is definitely important for the following reasons:
The rate of interest that you receive on your PPF is reviewed every quarter and updated. In order to have a fair idea of your corpus and earnings, it is essential to check the balance periodically.
If you want to avail a loan using your PPF account, you need to check your balance as there are limitations on the amount you can borrow against it. That is, you can borrow in the period of the 3rd to 5th year.
Also, there are windows to withdraw the partial amount from the PPF account after the completion of 5 years from the date of opening the account. You need to check your PPF balance in order to verify any amount that you might want to withdraw prematurely.
Also, if you consider the PPF a significant part of your retirement income, you should check the balance from time to time to plan your corpus accordingly.
How Can I Build a Good Corpus in Their PPF Account?
You can build a very good corpus by investing in a PPF account. This can be done by depositing money periodically without fail. This will ensure you receive a relatively high-interest income on the deposited capital. 
You can avail the facility of auto-debit to ensure that you do not miss investing in the same. Also, you must try to plan your finances such that you do not need to withdraw from the PPF account prematurely. This will build your long-term corpus steadily and benefit the most from compounding.
Furthermore, it is beneficial to deposit money before the 5th of any month so that it receives the interest amount for that month. Also, deposits should be made at the beginning of the year to benefit from the longer period of interest-earning.
Closing Thoughts
In a nutshell, PPF is a very long-term instrument of investment and its near risk-free nature is enough to make you complacent. However, keeping tabs on the status of your savings and how the changing interest rates are impacting your corpus is very important to plan for a better future.
You must periodically check your PPF online or offline at your convenience. If you are just opening a new PPF account, it is advisable to fulfil the necessary requirements so that PPF balance checking is convenient for you.
FAQs
Can I have multiple PPF accounts?
No. You cannot have more than one PPF account as per the current laws in India.
Can I withdraw my PPF amount?
You can only withdraw your PPF amount after completion of a 15 years lock-in period. You can also withdraw post completing 6 years, lower of:
50% of the PPF account balance at the end of the last financial year preceding the current one.
50% of the PPF account balance at the end of the 4th financial year.
In order to make this partial withdrawal, you need to submit FORM C.
What is the lock-in period of the PPF account?
The lock-in period of a PPF account is 15 years from the date of account opening.
Can I open a PPF account jointly?
No, a PPF account cannot be opened jointly with anybody else.
Can I open a PPF account on behalf of a minor?
Yes. A PPF account can be opened in the name of a minor by sharing the below documents:
Duly filled PPF form
Valid identity proof of guardian
A valid proof of residence of the guardian
Age proof of the minor
Passport-size photographs of the guardian
Is it possible for NRIs to open a PPF account?
No, NRIs cannot open a PPF account in India. But if a person already had a PPF account before changing their residential status, they can continue to maintain the account for its entire tenure. Upon maturity, however, they have to mandatorily withdraw and close the account.
Can I extend my PPF account beyond 15 years?
Yes. At the maturity of your PPF account, you have three options:
Withdraw the whole amount
Extend the PPF in blocks of five years with contributions
Extend the PPF in blocks of five years without contributions