Benefits of Recurring Deposit: Know What's in Store for You
6 min read • Published 29 October 2022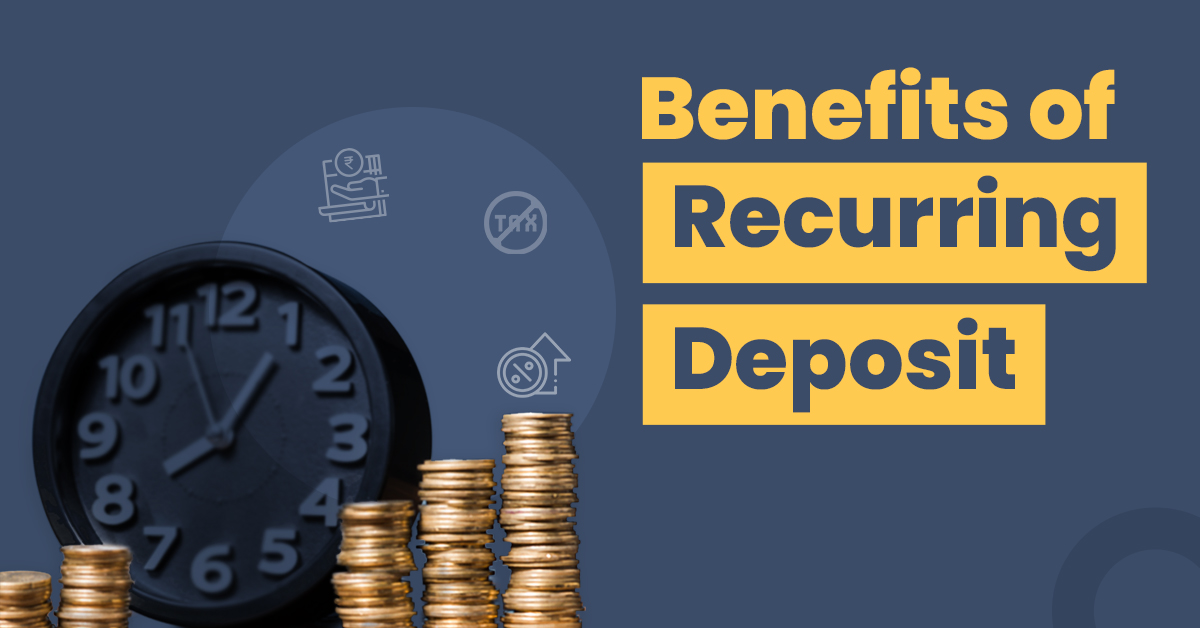 One of the financial instruments you can invest in to gain a steady income without taking any risks is a Recurring Deposit (RD). Benefits of RDs include higher returns than a savings bank account, almost zero risk and it is one of the safest investment options.
A recurring deposit is beneficial for those looking to achieve short to medium term financial goals such as paying tuition fees for their children's education. Almost every bank and post office offers the facility of an RD account.
There are a lot of benefits of RD that make it a suitable choice for investing your hard-earned money. Before we dive into the benefits of an RD account, let us first understand it in depth.
Understanding Recurring Deposits
Recurring Deposits (RDs) are a type of term deposit where customers can invest money in instalments. When opening an RD account, you can choose the monthly instalment amount and the tenure for which you will deposit the given amount. Once you open the RD account, you must deposit the chosen amount every month throughout the tenure.
When the tenure ends, you will receive the maturity amount, which constitutes the principal amount and the interest amount accumulated over the tenure. The interest is calculated on a quarterly compounding basis, but some organisations calculate it yearly/half-yearly.
Benefits of Recurring Deposit
If you don't have a huge corpus, you can save in small instalments and gain assured returns compared to a savings bank account. Let's take a look at some of the benefits of RDs.
Online Investing
Almost every bank and post office has initiated internet banking facilities and enabled online banking through websites and apps. This has made investing in RDs much smoother.
All you need to do is enable online banking on your account. You can easily follow the steps through the bank's website or mobile app to open an RD account, set monthly instalments and tenure, and start investing. Online investing in RD is hassle-free, secure, and time-saving.
High rate of interest
The rate of interest offered by banks, post offices on RD accounts is relatively higher than in savings bank accounts. The interest rate varies from 4–8% per annum, depending upon the policies and terms.
Tenure as low as six months
Many financial instruments need your commitment for at least 12 to 24 months. However, this is not the case with RD and it is another advantage of a RD account. The minimum period of deposits is as low as six months. So, you can earn a decent return in the short-term. RDs give you flexibility in the tenure (from 6 months to 10 years ), so you can invest as per your financial planning.
Almost zero risks
The investment you make in a recurring deposit account is as secure as a savings or fixed deposit (FD) account. Unless the bank in which you opened an RD account collapses entirely — which is highly unlikely in the case of reputed banks — there are virtually no risks to your investment. Moreover, Deposit Insurance and Credit Guarantee Corporation (DICGC), which is a specialised division of the RBI, provides complementary insurance of Rs. 5 lakhs to all account holders for each bank, so you can diversify your exposure to multiple banks to avoid bank collapse risk. 
Unlike Systematic Investment Plans (SIPs) of mutual funds, market fluctuations do not pose any risks to your investment. So, RD is one of the safest options for portfolio diversification.  
Also Read: Opening A Post Office Account Online
Good Option for achieving short-term financial goals
If you want to save money for short-term goals like home renovation or wedding, opening an RD account will be helpful. Upon maturity, you will have a lump sum in your hand.
It is one of the advantages of RDs. For achieving the financial goals you set for the next one-three years, you can opt for an RD. The maximum tenure for RD is generally ten years. Based on your goals, you can choose your tenure.
If the interest earned on RDs is more than Rs 40,000 (for senior citizens Rs. 50,000), TDS will be deducted at 10% on the total interest earned.
Disadvantages of RDs
Lock-in period
Your deposits are locked for the predetermined tenure. If you need funds urgently, you can withdraw before maturity. However, you need to either pay a penalty or withdraw at a lower rate of interest depending upon the terms and conditions of the financial institution. So if you are looking for high liquidity, RD is not a favourable option, however you can avail overdraft facility against RD without need to break it.
Lower returns than market-linked schemes
The returns on RD schemes seem higher compared to savings accounts, but they are comparatively lower than market-linked schemes. Investing in mutual funds and stocks involves higher risk, but those schemes compensate with higher potential returns. You can also opt for debt mutual funds. Wint Wealth aims for the democratisation of debt investments in India. On this platform, you can invest in bonds with a lower ticket size. However, if you are risk-averse and looking for safe investment avenues, then opt for RD schemes.
Before you invest in any RD scheme, you must compare the advantages and disadvantages of RDs. If the RD scheme fits well in your financial planning, you should opt for it.
Who Can Open an RD Account?
Any individual with a savings account
Any minor aged above ten years, upon the submission of identity proof
Any minor aged below 10 years, under the guidance of the parents or legal guardians
Any corporate organisation, sole proprietorship, company, or commercial organisation
Key Takeaways
RD is a low-risk investment option and offers decent returns. There are many advantages and disadvantages to a recurring deposit account. You need to determine your financial goal before comparing them. Before you opt for an RD account, please check the terms and conditions, rate of interest, and other facilities offered by the financial organisation.
FAQs
Will I be able to deposit different amounts into my RD account every month?
No, a regular RD account does not allow the facility of depositing different amounts into the RD account. However, many banks have started flexible RD schemes. In these schemes, you can deposit different amounts each month. While opening an RD account, please ensure that it allows different amounts for payments.
What happens if the current interest rate changes compared to the predetermined rate?
The rate of interest remains the same throughout the tenure. While opening an RD account, the rate of interest is decided and the same will remain fixed for your account. The new rate of interest will apply to new accounts only.
Do post office RDs function the same way as RDs offered by other banks?
Though the basic functionalities of RDs remain the same for banks and post offices, there may be slight differences in functionality. For instance, there may be differences in the minimum deposit amount for the RD account, lock-in period, and interest rate.
Is partial withdrawal allowed for the RD account?
No, a partial withdrawal facility is not available for the RD account.