How to Check Mutual Fund Status with Folio Number?
5 min read • Updated 3 March 2023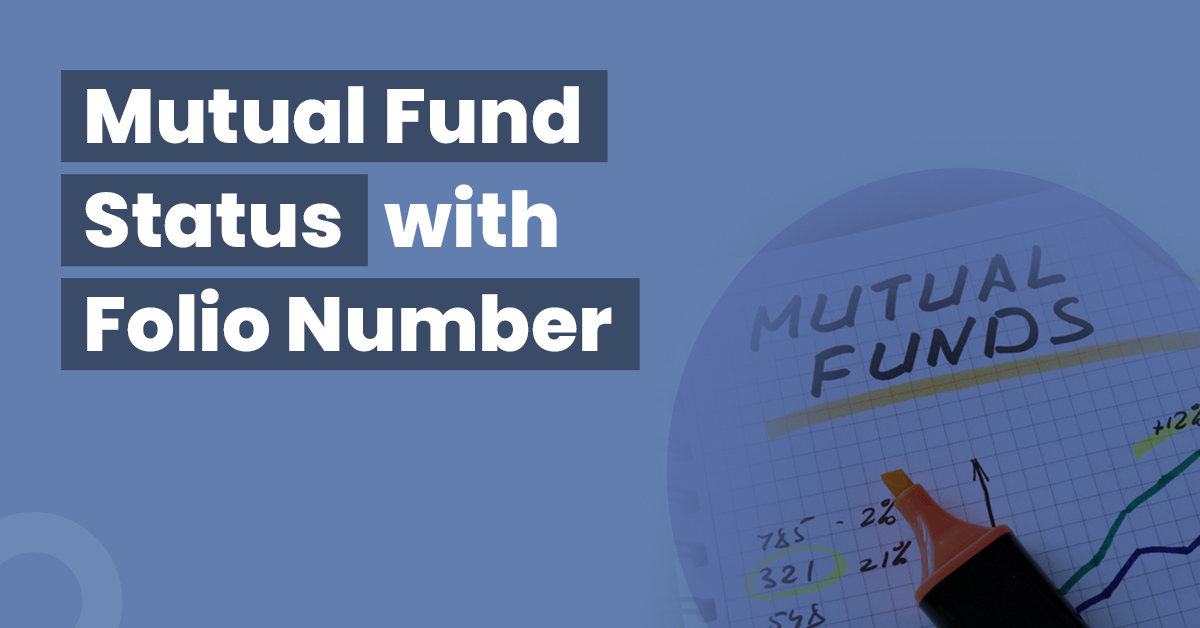 Mutual funds come with a folio number, an alphanumeric or simply a numeric value generated at the time of initial investment. You can use this number to get all the information regarding the current status of your mutual funds, classification in various asset classes, etc.
You can also get an idea regarding the growth potential of a mutual fund with the growth rate of assets under management. Additionally, using folio numbers can be an easier way of getting an idea regarding the performance of a mutual fund.
Let's discuss how to check mutual fund status with a folio number.
What Is a Folio Number?
Every Asset Management Company (AMC) provides a unique folio number to its investors for investments in their fund. Generally, this number is associated with the equivalent Permanent Account Number (PAN) of the investor.
A PAN is necessary for investing in a mutual fund. Therefore, you will have to furnish it while completing the Know Your Customer (KYC) formalities. There can be a separate folio number for every mutual fund investment, or you can also ask for a consolidated folio number from respective asset management companies.
It is common to practise getting all the data associated with one or more mutual fund investments using this alphanumeric or numeric identifier. So now that you know the meaning of folio number, let's discuss ways of checking mutual fund status.
How to Check Mutual Fund Status Using Folio Number?
Here are several ways of using portfolio numbers for checking mutual fund status:
Check Fund Status via Online Mode
Websites of various AMCs allow you to get all the information regarding a mutual fund by using your folio number. Apart from this, you can also visit the official website or mobile application of the concerned broker or mutual fund distributor to get all the details by putting in the folio number.
AMC's Customer Care
Another way of checking mutual fund status is by calling the AMC's customer care number, where you need to provide PAN as well as the folio number. After verifying your inputs, the AMC will provide all the information about your holdings.
AMC's Website
The third way of getting information about mutual fund status is by visiting the official website of the AMC. First, you must register and log in to AMC's website using your credentials. After logging in to their website, you will need to visit the section relating to mutual fund status. Click on the relevant option and enter your folio number to get all the information about your investments.
Brokerages
The brokerage or intermediary through which you have purchased corresponding mutual funds units can also provide information about your holdings by looking at the folio number. You can call them or visit their website, enter the portfolio number, and get the required information. The brokerage houses keep track of your investments and will be able to provide timely and reliable information.
Consolidated Account Statement (CAS)
There are two national depositories in India: Central Depository Services Ltd. (CDSL) and National Depository Services Ltd. (NSDL). If you are investing and keeping mutual fund units in a Demat account, these depositories will provide regular consolidated account statements via emails and letters containing information about your mutual fund investments.
What Are the Benefits of Folio Number?
The various benefits of folio numbers are as follows:
A folio number provides unique identification to every investor. It easily helps AMCs and regulatory authorities to identify and track every investor.
Using this folio number, you can easily get an idea about the number of units held at the end of every day. Therefore, you can easily track and review your portfolio using this number.
Another advantage of this number is that using it will help you avoid the hassles of regular KYC compliances every time you transact with the same AMC.
As these numbers are digitised, you can access them from anywhere. You will have to enter this number, and you can track your investments online.
How Does the Allocation of Folio Number Happen?
Every mutual fund house will come up with a unique folio number for its investors for investments in their fund. Fund houses use it as a reference point to check the holdings associated with it.
Moreover, the asset management company will store your details against the corresponding folio number. Then, they will use the data associated with that folio number to levy interest and other charges.
Final Thoughts
Folio number is an efficient measure of tracking an investment portfolio in a mutual fund. It is a unique number generated when investing in a particular mutual fund. Therefore, ensure a folio number is allotted to you after you make any investment.
Frequently Asked Questions (FAQs)
Where can I locate my folio number?
There are various areas from which you can know your folio number. This number is in the top corner of a CAS or consolidated account statement e-mailed by respective fund houses periodically, or you can call their helpline number and get the information about it.
How long does it take to get a folio number?
The fund house will generate a folio number for you within 3 working days of making your initial investment in the said mutual fund.
Can I withdraw or redeem mutual fund units using folio numbers?
As per the guidelines laid out by the AMFI (Association of Mutual Funds in India), it is possible to withdraw or redeem your mutual fund units using your folio number. You can log in to the online transaction pages of respective AMCs and proceed with redemption.
Can I have 2 SIPs with the same folio number?
You can indulge in more than one SIPs (Systematic Investment Plans) using the same folio number with the same fund house.