A well-diversified portfolio includes assets that suit your investment goals and are designed to provide you with returns in every market condition. Investing in various asset classes, including stocks, bonds, gold, real estate, etc., is suggested.
When it comes to the safety of investment, gold plays an important role. Gold acts as a hedge against inflation and helps diversify the portfolio. Also, it is considered safe during economic slowdowns because it is inversely related to the stock market. Hence it is recommended to diversify your portfolio to gold by around 10-15%.
Gold as an asset class
Unlike other assets such as equity, bonds etc., gold is a real asset and does not carry any counterparty or credit risk. In the long run, investing in gold is a good option with an investment horizon of 8-10 years. Gold is always in demand, and history is the best evidence for its encouraging uptrend. If you want to invest in gold for the long-term, Sovereign Gold Bonds (SGBs) are a good option.
What are Sovereign Gold Bonds (SGBs)
The Reserve Bank of India (RBI) issues Sovereign Gold Bonds (SGBs) on behalf of the Government of India. They are the substitutes for holding physical gold. SGBs must be issued in cash and redeemed in cash. They are sold on a per-unit/gram basis, and it gets its value from the underlying asset, which is gold with 999 purity, published by the India Bullion and Jewelers Association Limited averaging the closing prices for the last 3 business days of the week preceding the subscription period.
How do Sovereign Gold Bonds (SGBs) help in Portfolio diversification
Less Volatile: Sovereign gold bonds have lower volatility than equities, and an asset class with less volatility helps mitigate the risk.
Not correlated with the stock market: Gold is not related to other investment options, such as equity, which is why sovereign gold bonds are crucial for portfolio diversification.
Utility Value: The underlying asset of Sovereign Gold Bonds (SGBs) is gold. Gold is always in high demand, and it eliminates the risk of becoming worthless in the future.
How Much of your Portfolio should be allocated to Sovereign Gold Bonds (SGBs)?
You must diversify your portfolio in a way that helps you in achieving your long-term financial goals, and it is crucial to develop a plan that considers your financial objectives and risk appetite. Experts recommend investing at least 10-15% of your total investments in gold, which includes SGBs and physical gold or any other ways to invest in gold. However, every investor has a different goal. So let's have a look at different approaches for investing in gold, including SGBs and other gold investment options:
5-10% allocation to gold: If you are an aggressive investor and believe in the equity sector, but you want some amount to keep safe from unforeseen events, then you can invest 5-10% of your portfolio in gold.
15-25% allocation to gold: If you are a beginner in the stock market and are a little sceptical about the country's economy, consider investing a little more in Sovereign Gold Bonds (SGBs) or other gold investment options. It will provide you with better safety of your portfolio.
30-50% approach: If you believe that the economy is slow and there is a hike in the government debt which may lead to an increase in inflation, then you may consider investing up to 50% of your portfolio in Sovereign Gold Bonds or other gold investment options.
Benefits of Investing in Sovereign Gold Bonds
Less Risky: As mentioned, SGBs don't have a relationship with the stock market, and the demand for gold is always high, which makes it less risky. Moreover, the RBI issues SGBs, which the Government of India backs. Hence, there is no credit risk associated with SGBs. However, market fluctuations may lead to some volatility in gold prices.
Convenience: The aim of introducing SGBs was to reduce the hassle involved with the physical gold. If you are looking to invest in gold but want to avoid holding it physically, SGBs are ideal.
Long-Term Investment: SGBs have a maturity of 8 years and a lock-in period of 5 years. If you are a long-term investor, SGBs are ideal.
Capital Appreciation: The price of yellow metal tends to rise in the long term, and during fluctuations in the stock market, gold is considered a good investment option.
Loan Facility: Sovereign Gold Bonds also act as collateral for getting loans from Banks or Non-Banking Finance Companies (NBFCs), and you can get up to 75% of the market value of SGBs as a loan amount.
Regular interest: Interest on sovereign gold bonds is 2.5% (simple interest) and is disbursed every six months. If you are a conservative investor looking for a steady income from investment apart from capital appreciation, SGBs are an excellent option.
Tax Advantages: No TDS is applicable on the interest received from SGBs. At the same time, you can transfer the bond before it matures and gain the indexation benefit. Also, if you hold the bond until maturity, the capital gain tax will be exempted. But the interest is taxable as per your income tax slab.
Discount in Secondary Market: Generally SGBs are traded at discount in secondary market due to low liquidity, therefore you can invest in gold at discount.
Wrapping up
Investing in Sovereign Gold Bonds is an intelligent way to diversify and make an all-weather portfolio. Planning your portfolio while diversifying helps get maximum returns in every market condition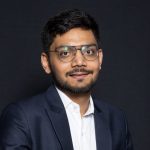 Vaibhav is Chartered Accountant by profession, having experience of 4+ years in banking & finance sector.
Since past one year associated with Wint Wealth as Credit Principal. Previously worked with Northern Arc Capital for 2 years in FI-Credit Team and AU Small Finance Bank for 1 year in LAP-Credit Team.
Was this article helpful?