Spot Gold vs Gold Futures – Understanding the basics
6 min read • Published 11 November 2022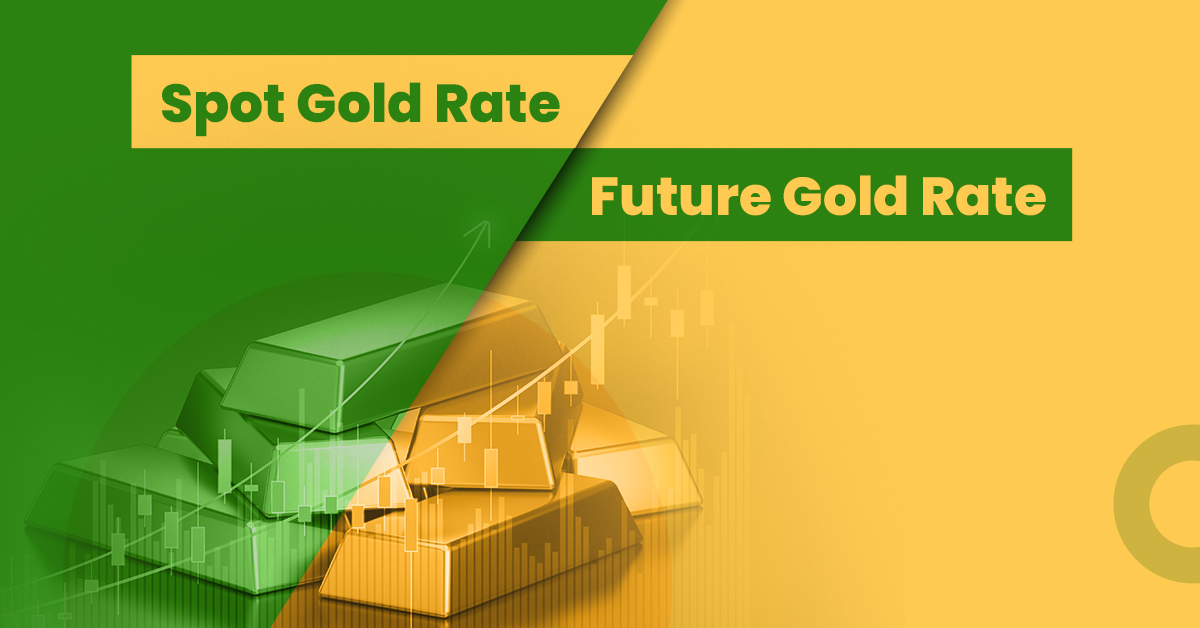 The price of gold is less volatile than stocks. Therefore, you do not require vast investment expertise to purchase, hold and sell this commodity. Apart from buying gold in physical form, you can also buy it either from the spot market or in the form of a futures contract. The latter option can be riskier, but you can potentially secure more profit too.
So, before you start investing, you must clearly know the differences between spot gold and gold futures, their features, and which of these two investment approaches aligns with your risk appetite.
What Is Spot Gold?
Spot gold refers to the trading of gold in the spot market in exchange for cash. The spot market is where financial instruments, such as commodities, currencies, and securities, are traded for immediate delivery. Hence, purchasing gold in the spot market enables you to own it immediately at the current spot price. In India, the trading is generally done on a recognised exchange such as the Multi Commodity Exchange (MCX).
Let's assume that you want to buy 10 grams of gold on the spot market, and the spot price is ₹ 5,000. You will have to pay ₹ 50,000 in cash to get the 10 grams of gold in your portfolio.
What Is Gold Futures?
Futures Gold refers to trading in gold so that the payment is made on a particular date in the present for delivery on a particular future date. The Futures Gold rate is typically more than the Spot Gold price. The actual transaction takes place on or before the date of maturity. By entering into a futures contract, you can hedge the value of the gold against market fluctuations.
In a gold futures contract , profit or loss is the difference between the predetermined gold price and the spot price of gold on the date of maturity.
Let's assume, you need delivery of 10 grams of gold five months from now and the price for Futures Gold is Rs. 5000/gm. At this price, you will have to presently pay Rs. 50,000 for 10 grams of gold. Five months later, its ongoing market price could be either less or more than Rs. 50,000. In case it's more than 50,000, say Rs. 70,000, you make a profit of Rs. 20,000. However, if the price is on the lower side, say Rs. 45,000, you have made a loss of Rs. 5,000.
Also Read: Commodity Mutual Funds – Types, Benefits and Things to Know before Investing
Differences between Spot Gold and Gold Futures
Following are some notable differences between these two kinds of investment approaches:
| | |
| --- | --- |
| Spot Gold | Gold Futures |
| The pricing you see in the spot market is the value of gold at that particular moment. It is also known as spot price, which fluctuates continuously. | The pricing of gold futures is the amount at which buyers or sellers will settle their contract on a future date. |
| You can include the gold in your portfolio at the time of purchase. You can also hold the gold for as long as you want. | The gold futures option does not allow delivery of gold on the date of entering into the contract. |
| You can earn immediate profits by liquidating your holdings when the price increases. Your profit will be the difference between the selling price and the purchase price. | You will generally earn profits only in the future if the price of gold increases on the maturity date unless you decide to exit the contract before maturity. |
| Liquidity of spot gold is high, as you can sell your holdings on a trading platform immediately. | Since the contract is of a fixed maturity, the liquidity of gold futures is relatively lower. |
| You need to pay the spot price of the purchased gold instantly. | You generally get an option to pay the relevant strike price within 1-2 days. |
Why Should One Invest in Spot Gold?
Here are some major benefits you can leverage by investing in spot gold:
Investing in spot gold allows you to diversify your investment portfolio and thereby reduce your risk.
Liquidating physical gold can be time-consuming as you have to go to brick-and-mortar stores for this. However, liquidating spot gold on the spot market is quite simple.
You can hedge against inflation by holding gold.
Why Should One Invest in Gold Futures?
You can get the following advantages by investing in gold futures:
You can purchase gold futures by paying only a portion of the strike price. You get the option to pay the balance on the date of maturity of the gold futures contract.
You can buy gold at a lower price in gold futures contracts as compared to physical gold.
In gold futures, you also get the opportunity to exit the contract and execute the deal before the maturity date.
Final Word
Now that you know the differences between spot gold and gold futures, you can choose the investment approach which favours your risk appetite. Spot gold can be a less riskier option because you can liquidate the gold easily at the existing market price. However, investors with a high-risk appetite prefer investing in gold futures and take all the risk it involves due to the high earnings potential it offers.
Frequently Asked Questions
What is MCX?
MCX or Multi Commodity Exchange of India Limited, is India's first commodity derivatives exchange facilitating online trading of commodity derivatives transactions. It is India's first Exchange to offer commodity options contracts, bullion index futures and base metals index futures contracts.
What is meant by MCX gold price?
Multi Commodity Exchange (MCX) provides a secure platform for the public trading of gold and other commodities. The price of gold on the MCX depends on several factors like supply and demand, dollar-to-rupee conversion rate, the international price of gold, the conversion rate of troy ounces to grams, etc.
How does the price of gold depend on inflation?
During inflation, the overall value of domestic currency plummets. As a result, individuals' purchasing power decreases, and they need to pay more to buy general commodities, including gold. If gold is already a part of your portfolio before you are hit by inflation, gold acts as a hedge against inflation as the value of gold typically rises when there is an increase in the cost of living.
Which formula does MCX use to determine the gold price?
MCX uses the following formula to measure the spot price of gold:
The price of 1 gram of gold = Gold price in the international market x (Rate of conversion of USD to a rupee) / (Conversion of a troy ounce to gram).
What is a troy ounce?
A troy ounce is a standard unit mainly used to weigh precious metals like gold. 1 troy ounce is equivalent to 31.1034768 grams. It is generally abbreviated as 'oz t' or 't oz'.