NEFT VS IMPS VS UPI
7 min read • Published 9 January 2023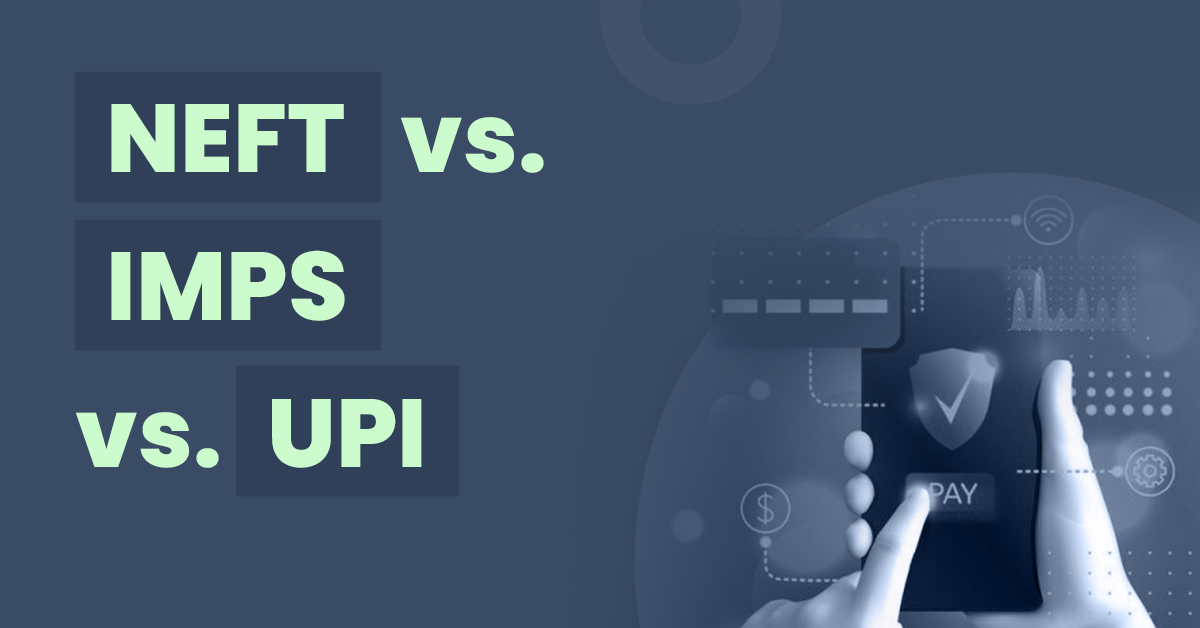 Have you ever had a chance to stand in long queues at utility bill payment centres like electricity boards or water boards or state ration stores? Have you as a student waited for that money order or cheque from your parents to reach your hostel room so that you could pay your fee? Probably, because earlier making payment for anything or transferring funds required a wallet full of cash, a folder that holds the documents required to transfer cash to the recipient and a few hours of our time.
We may barely remember the last time we did this because now money transfer and payments for anything is just a matter of a click on our computers or mobile phones. From purchasing groceries to bank loan payments all happen from the sleek screen we carry everywhere with us – Mobile phones.
What is National Electronic Funds Transfer (NEFT) System
NEFT is a paperless mode of fund transfer introduced and operated by RBI which allows users to electronically transfer funds from their bank account to a recipient around the clock. The NEFT transfer can be done online and offline via net banking, bank mobile application and at the bank branch. The funds can be transferred to any individual using NEFT by Individuals, firms, or corporations having a bank account. For the transfer of funds using NEFT, the remitter must provide the following details about the beneficiary – Bank Account number, Account holder's name, Bank branch and branch's IFSC Code. The settlement happens in batches at NEFT Clearing Centre operated by RBI. NEFT presently operates in half-hourly batches throughout the day.
If the remitter wishes to transfer funds online they can do it through net banking or a bank application by adding beneficiary details. After the successful addition of the beneficiary fund transfer can be initiated by authorising a debit to his/her account. Alternatively, the remitter can visit his/her bank branch for NEFT transfer by bank mode/offline mode. The customer has to fill in the beneficiary details in the NEFT application at the bank and authorise the branch to debit his/her account. An NRI remitter can also transfer funds to an Indian recipient having a bank account in India.
Benefits of NEFT:
Round-clock availability on all days of the year
Available in both online and offline modes
Near real-time fund transfer to the beneficiary account and settlement in half an hour, the receiver and sender get notified instantly upon completion of the transaction.
PAN India coverage through a branch network of all types of banks
No minimum charges by RBI
Apart from fund transfer it can be used to clear dues of credit cards, EMI Payments, and other bill payments also.
What is Immediate Payment Service (IMPS)
Introduced in 2010, IMPS provides robust & real-time fund transfer which offers an instant, 24X7, interbank electronic fund transfer service that could be accessed on multiple channels like Mobile, Internet, ATM, and SMS. This facility is provided by the National Payments Corporation of India (NPCI) through its existing NFS switch. IMPS is an emphatic service which allows transferring of funds instantly within banks across India which is not only safe but also economical. As per NPCI, currently on IMPS, 684 members are live which includes banks & PPIs.
In order to transfer funds, the remitter has to register for a mobile banking facility with his/her bank and obtain Mobile Money Identifier (MMID)from the bank and set his MPIN on the application. The beneficiary has to link his/her mobile number to the bank account at their respective bank and obtain MMID. The funds can be transferred in real-time using the mobile number and MMID of the beneficiary. In case the beneficiary's mobile number is not registered with a bank account the fund transfer can be done using the beneficiary's bank account number and IFSC Code.
Benefits of IMPS:
It's fast, safe, secure and real-time
Transactions on IMPS can get carried through mobile phones, internet banking, and even ATMs.
Users can avail benefits of IMPS 24 hours even on holidays.
IMPS does not have any minimum amount limit for the transactions of funds.
The transaction does not require the beneficiary's Account number, IFSC code, or other bank details.
What is Unified Payment Interface (UPI)
Unified Payment Interface (UPI) has been a game changer in the digital payments space. From fund transfers, purchase payments, collect requests for funds, utility bill payments and QR payments UPI is a secure platform that powers multiple bank accounts into a single mobile application and merges several banking functions on a single platform. Launched in 2016 under the direction of RBI, UPI is owned, operated and managed by NPCI. UPI is the most used payment method across the country at all levels of the financial ecosystem. UPI feature is available on almost all bank applications and other applications like PayTm, Google Pay, PhonePe etc.
Recently, NPCI has partnered with some banks to provide the UPI123 product which enables users to do financial transactions using the UPI platform on feature phones using Interactive Voice Response (IVR) method. Here, the user has to dial a pre-defined IVR number to register and do transactions on the UPI platform. This solution is supported by Ultracash and ToneTag. As per the NPCI website, currently, IDFC First bank, City Union Bank and NSDL Payments bank have gone live on UPI123 -IVR Payments.
UPI Lite is another feature launched by NPCI, in the BHIM app, that runs on the existing UPI ecosystem to process low-value transactions below Rs 200. Making a payment through UPI Lite does not use the remitter bank's ecosystem in real-time. The user has to just register for UPI Lite in the existing UPI application.
Benefits of UPI:
Instant payments available 24*7 on all days including holidays
One mobile application can be used for accessing different bank accounts.
customer not required to enter the details such as Card no, Account number; IFSC etc.
Resolves the issue of making on-the-spot payments without the hassle of cash handling
Merchant Payment with Single Application or In-App Payments
Utility Bill Payments, Over Counter Payments, QR Code (Scan and Pay) based payments.
Request for money (PULL request) can be shared with another user to collect money
Raising Complaints from Mobile App directly
Widely used and zero set up cost for merchant
Difference between NEFT Vs. IMPS Vs. UPI – Brief Overview
| | | | |
| --- | --- | --- | --- |
| Description | NEFT | IMPS | UPI |
| Regulation Authority | RBI | NPCI | NPCI |
| Settlement Time | In batches of 30 minutes | Immediate | Immediate |
| Maximum Transfer Limit | No Limit | Rs 5 Lakh | Rs 1 Lakh |
| Charges | No Charge on Saving bank accounts | Varies in Banks | No Charge |
Final Thoughts
It is clear that NEFT, IMPS and UPI are all viable options for electronic fund transfer in India. It is important to weigh the pros and cons of each method and choose the one that best fits your requirements, whether it's speed, security, or convenience. With the digital payment landscape evolving constantly, it's always a good idea to stay updated on the latest options and trends.
FAQs
Can an IMPS be cancelled?
IMPS is an immediate fund transfer service and the request can not be cancelled once initiated.
Can a person remit funds by NEFT even without having a bank account?
Yes, a person who does not have a bank account can remit funds through NEFT to a beneficiary having a bank account, with another NEFT member bank. It can be done by depositing cash at the nearest NEFT-enabled branch of any bank, by furnishing additional details such as a complete address, telephone number, etc. Such cash remittances will, however, be restricted to a maximum of ₹50,000 per transaction.
What are the practices which should be adopted by a customer for safe and secure digital payments?
How can a merchant start accepting payments on UPI and when will the merchant receive money after the UPI transaction?
The merchants can register themselves with a bank where they have an account which acts as an acquirer bank and request for UPI payment infrastructure. After a customer pays money via UPI, the merchant bank account is immediately credited with the said amount.