Mutual Fund Rolling Returns: What Is It and How to Calculate It?
6 min read • Published 26 October 2022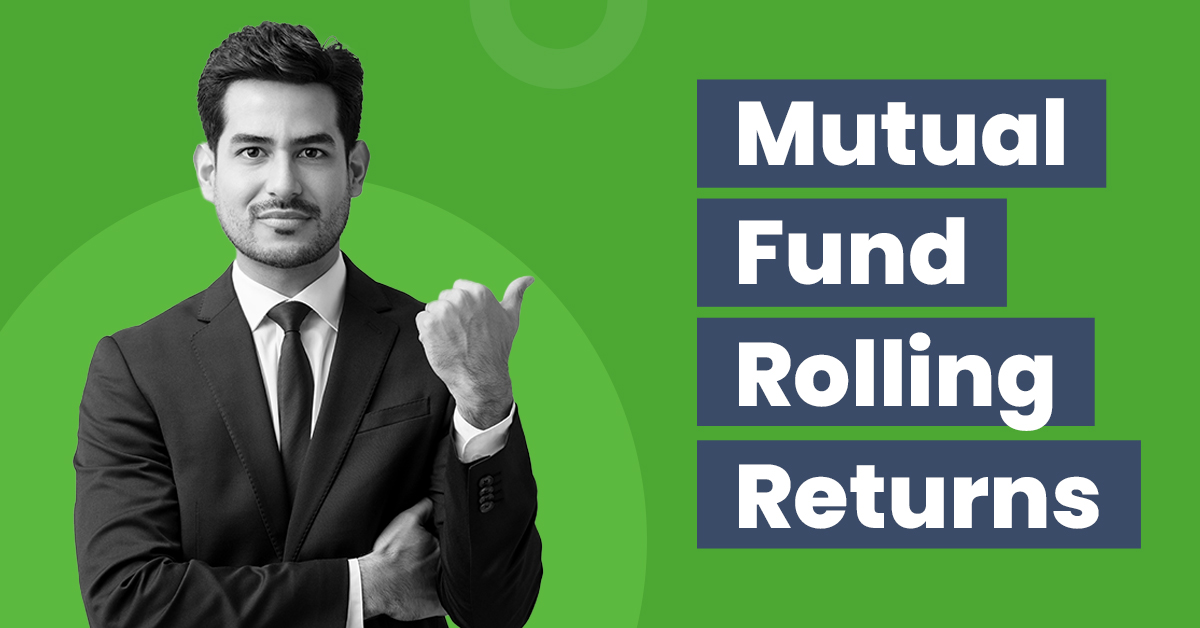 When an individual decides to invest in any mutual fund plan in the market, they will first check its past performance. This includes checking the fund's returns over several years in different market cycles and against a benchmark.
Rolling returns of mutual funds is another important factor in determining whether a mutual fund is investment-worthy. It will give you a clearer picture than just calculating the rate of returns as it considers several data points.
What Is the Meaning of Rolling Returns?
Investors use rolling returns to measure a mutual fund's performance over 1, 3 or 5 years. It will allow investors to evaluate annualised returns at different stages. First, they will have to input a specific date and investment tenure. Then one must calculate returns on all consecutive dates with the same investment tenure.
Rolling returns help to eliminate any biases accompanying returns estimated at any specific period. This will help you to understand whether a fund performing well was just a market phenomenon or has it performed well over time where the markets have faced multiple ups and downs and the investment decisions of the fund manager have been good.
Furthermore, rolling returns focus more on the holding period than an investor's entry and exit time into the mutual fund.
How Does Mutual Fund Rolling Returns Work?
Rolling returns use a larger set of data to show more accurate data than calendar year and annualised returns. When you calculate the financial gains made by a fund over more extended periods (3, 5 or 10 years), you get a more accurate picture of the fund's performance.
Usually, rolling returns are useful over extended periods and are helpful when investors want to evaluate past performances of different kinds of investments.
Furthermore, asset management companies use rolling returns to create their product factsheets. They use these factsheets to inform all the investors about how their funds performed against their competitors and the benchmark.
Investors who find it difficult to calculate the rolling returns for mutual funds can use an online calculator. They need to enter the mutual fund's inception date and tenure to calculate the rolling returns.
How to Calculate Rolling Returns in Mutual Funds?
Calculating rolling returns is a time-sensitive concept as it measures returns over a long time to present transparent results regarding accumulated returns. Here are the steps investors should follow before calculating the rolling returns for any mutual fund:
Step 1: Decide the total period before calculating a fund's rolling returns.
Step 2: Choose the intervals for which you wish to check the returns data.
Investors need to follow both steps because they are linked with one another. To find the intervals required for the above calculation, investors can check the period over which they will stay invested. The following example will demonstrate how this works:
Investor A wants to calculate the rolling returns of a specific mutual fund over five years. They also want to calculate how well the fund performed in the past in recessionary environments.
The investment tenure of the mutual fund is ten years. The investor can choose the period from January 1, 2006 to January 1, 2011, as it factors in performance during the great recession. They will have to calculate returns for the remaining five years from January 1 2011 to January 1 2016.
Next, the investor needs to determine the return percentage this mutual fund has generated annually during that period. They can check the fund's NAV for each applicable year to get accurate data.
What Are the Benefits of Measuring Rolling Returns in Mutual Funds?
The following are some important benefits of calculating rolling returns for mutual funds:
It puts forward transparent data on the performance of any mutual fund or stocks, allowing pre-existing and potential investors to make an informed decision.
Investors get a clear idea about which mutual fund they want to invest in as they can check the consistency and performance of different funds.
The results of rolling returns are very accurate and unbiased because investors can select any period.
Rolling returns data is helpful for investors who have opted for SIP investments. Investors can find the returns data on periodic investments over a specific time. In addition, they can check the average returns this mutual fund has generated.
Rolling return values also help investors calculate metrics such as capture ratio, Sharpe ratio, etc.
Final Word
Data on rolling returns from mutual funds help investors make informed decisions as they invest their money in a mutual fund. In addition, it assures investors that their money is invested in a safe place, and they know what kind of potential returns they will likely receive at the end of their investment tenure.
However, investors should also consider other factors before investing their money into any mutual fund other than the rolling returns value. The other factors one should consider include; market conditions, financial objectives, investment horizon, etc.
Frequently Asked Questions
What are the various ways to evaluate a mutual fund's performance?
There are multiple ways through which investors and asset managers can evaluate the past performances of a mutual fund. The following returns data is used most frequently for this purpose:
– Rolling returns
– Trailing returns
What are trailing returns?
Investors and asset management companies use trailing returns to calculate a specific mutual fund's performance in a certain time interval. Also called point-to-point returns, it tells you a mutual fund's performance between two dates.
What is the drawback of calculating rolling returns?
The main drawback of calculating a rolling return of a mutual fund is that its calculation is very complex. Moreover, no such predefined formula can be used to get precise answers if an investor wants to calculate manually.
What are some differences between trailing returns and rolling returns?
Trailing returns primarily focus on an investor's entry and exit into a mutual fund. On the other hand, rolling return focuses on the period till which an investor has held onto his fund units in a mutual fund.
Trailing returns do not reflect market fluctuations, but rolling returns will use such fluctuations to generate more accurate results.