FAANG Stocks: Meaning, Importance & Relation to MAMAA
7 min read • Updated 10 July 2023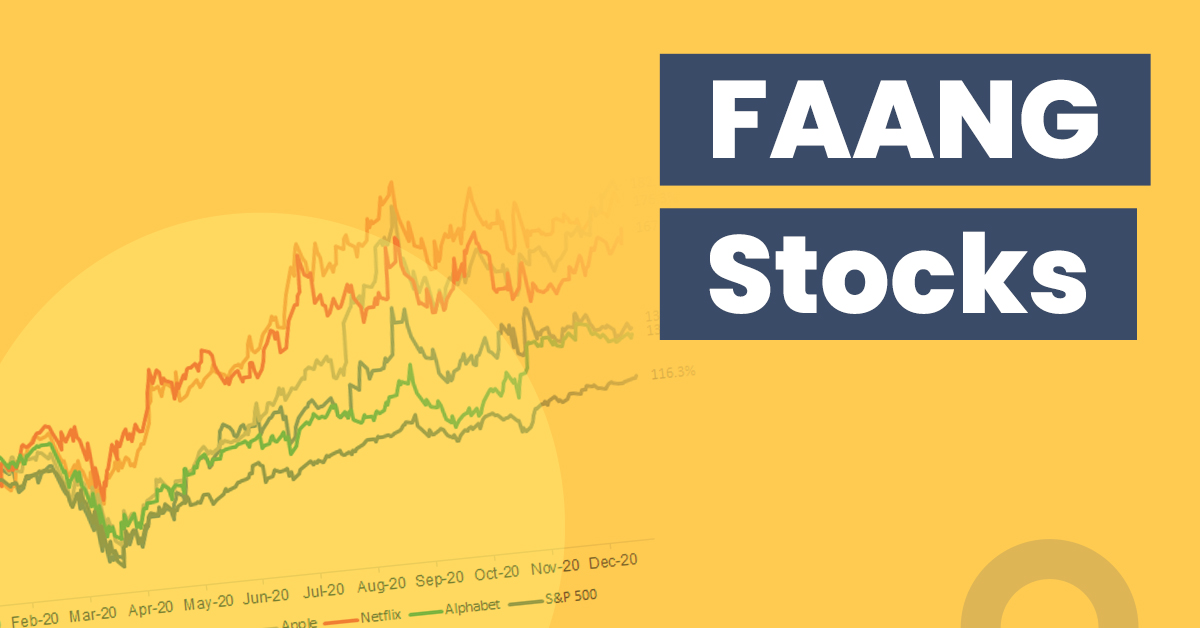 The United States of America's (USA) stock market is the world's largest, with over 400 internationally listed companies. In 2017, top 5 tech companies in the US stock exchanges were popularly referred to as FAANG. However, other tech giants soon took over, and the names of the top 5 companies changed based on their market capitalisation.
Read on to understand all the details about FAANG stocks and how the initials changed to MAMAA gradually.
What Is the Meaning of FAANG?
FAANG is a commonly used acronym in the United States stock market. It represents the initials of the top five technology-based companies in the US. Facebook, Amazon, Apple, Netflix and Google are the five companies that make up FAANG.
In 2013, American author Jim Cramer coined the term FANG while recommending these companies as promising stocks. Initially, Apple was not a part of the top 5 tech names; however, in 2017, Cramer added Apple to the list forming FAANG. Soon it became a common name used globally to refer to these tech giants in the USA.
These companies have enormous market capitalisation with a combined capital of over $3 trillion. FAANG is a significant stock group to talk about as these stocks are not just top 5 tech stocks but also remain in the race to become the top 5 stocks in the US stock exchange. Each of these companies owns multiple sub-brands and they have acquired organisations covering a significant global market share.
Besides being top-performing stocks, these companies have also become globally popular brands. As a result, the products and services offered by these 5 brands have become an intricate part of our daily lives.
Why Did FAANG Change to MAMAA?
FAANG is a term used to refer to the top five global tech companies – Facebook, Apple, Amazon, Netflix and Google. However, a change in consumer behaviour, tough competition between companies and market saturation led to a change in the ranking.
Hence, due to these factors, Netflix could not retain its place in the popular 5, and it was soon replaced by Microsoft as it generated significant revenue in the past few years.
Iin 2015 and 2021, FAANG lost Google and Facebook, respectively as Google and Facebook changed their corporation names to Alphabet and Meta, respectively. Due to these factors, FAANG was later changed to MAMAA with initials of the new top 5 names – Meta, Amazon, Microsoft, Apple and Alphabet.
Although these companies are vital players in the market, it is evident that retaining their position in the top 5 is not easy. Based on the annual performances of the leading tech companies, the acronym may change now and then.
Global Tech Industry Overview
"Tech Industry" is an umbrella term that refers to the collective sector of hardware and software technology and communication-related services. This sector is usually referred to as the Information Technology (IT) sector.
When it comes to technology, consumer behaviour is a dynamic factor that is evolving rapidly over time. Parallel to consumer demand, technology and services are also changing quickly. For example, in just 3 decades, the industry has moved from landlines to smartphones and smartwatches.
At present, the industry is rapidly expanding its reach worldwide. The USA tech sector is expected to reach around $1.8 trillion in 2022. The world's tech giants have become household names, slowly becoming necessities. There are over 6 billion users across social media platforms like Facebook and Twitter.
The artificial intelligence (AI) and Augmented/Virtual Reality (AR/VR) industry is expected to boost the tech market off the charts by 2030. It is predicted that from 2021 to 2030, AR market revenue will reach approximately $20-$30 billion with a 100% CAGR.
Based on reports from the Bureau of Economic Analysis (BEA), the value of the core tech industry in the USA grew by 47% between Q1 of 2020 and Q1 of 2022, which is a record high for all sectors.
Benefits of Investing in the Global Tech Sector
The global IT sector market looks promising in the coming future. Despite its risks and challenges, this sector will keep rising for the upcoming decades. Many top companies in the Indian and US stock markets belong to the IT sector, and they have been delivering consistent returns over the last 5 years. Hence, MAMMA stocks are good investment options compared to other players in the tech industry.
In the Indian market, cities like Bangalore have become the IT hub of the country, with over 100 top players in the market. The Government of India is also promoting investment in the IT sector by launching several projects and initiatives.
With innovation in AI and AR technology, this industry's future will witness a massive boost in the coming future.
Additionally, Metaverse is one of the top five emerging trends and technologies for 2022. Global spending on Metaverse related technologies is expected to rise to $72.8 billion by 2024.
79% of industry experts believe that AI will improve work methods by reducing wastage and paperwork and increasing efficiency of the workforce. Additionally, the data recovery and protection industry is projected to show a 9.7% year-on-year growth.
Risks Associated with Investing in the Tech Sector
As explained, the IT sector is booming rapidly with impressive revenue predictions by experts. However, the global tech sector also faces several risks that will affect all parties involved in the industry.
As of 2022, several big tech companies have laid off at least 30% of their workforce to manage expenses. Several other companies have announced the possibility of the same by 2023. This step highlights two vital risks:
Firstly, it is a matter of concern for the It sector employees as the industry is slowly transitioning into automation, resulting in reduced manpower requirements.
Secondly, the expenses for innovation in IT are increasing at a concerning rate which may affect these companies' business and profitability.
Another risk associated with this industry is data privacy concerns with the rising demand for pirated data in the black market. Competition among the companies is also a significant risk associated with the IT sector, as it will compromise safety and quality.
Dependence on resources like machinery and network connectivity is an added risk that investors need to keep in mind before investing in tech companies.
Final Words
MAMAA stocks are the top companies in the US market from the tech sector, with a vast market capital. These companies are global leaders in the IT sector and have promising prospects. Therefore, experts suggest investing in these companies for consistent profit and investment security. However, investors should do thorough market research before going ahead with any investment decision.
Frequently Asked Questions
How much is the tech industry worth?
The tech industry is worth over $5 trillion as of 2021, with a progressive growth rate of over 5% globally. Most of the money in this sector is generated in North America (35%), Asia (32%) and Europe (22%).
Is the tech industry growing?
The tech industry is growing exceptionally fast, with the innovation of future technologies and social media trends. As a result, the consumer demand for information technology and tech services is growing along with the tech industry.
What is Metaverse?
Metaverse is a hypothetical iteration of the Internet that is made with virtual commodities and elements. It is a shared space which has been created to enable access to endless connectivity from the comfort of one's home. It is an upcoming industry which has the potential to grow into the next big thing in the tech world.