Why You Should Choose Equity Over FDs, Gold & Real Estate
8 min read • Updated 11 July 2023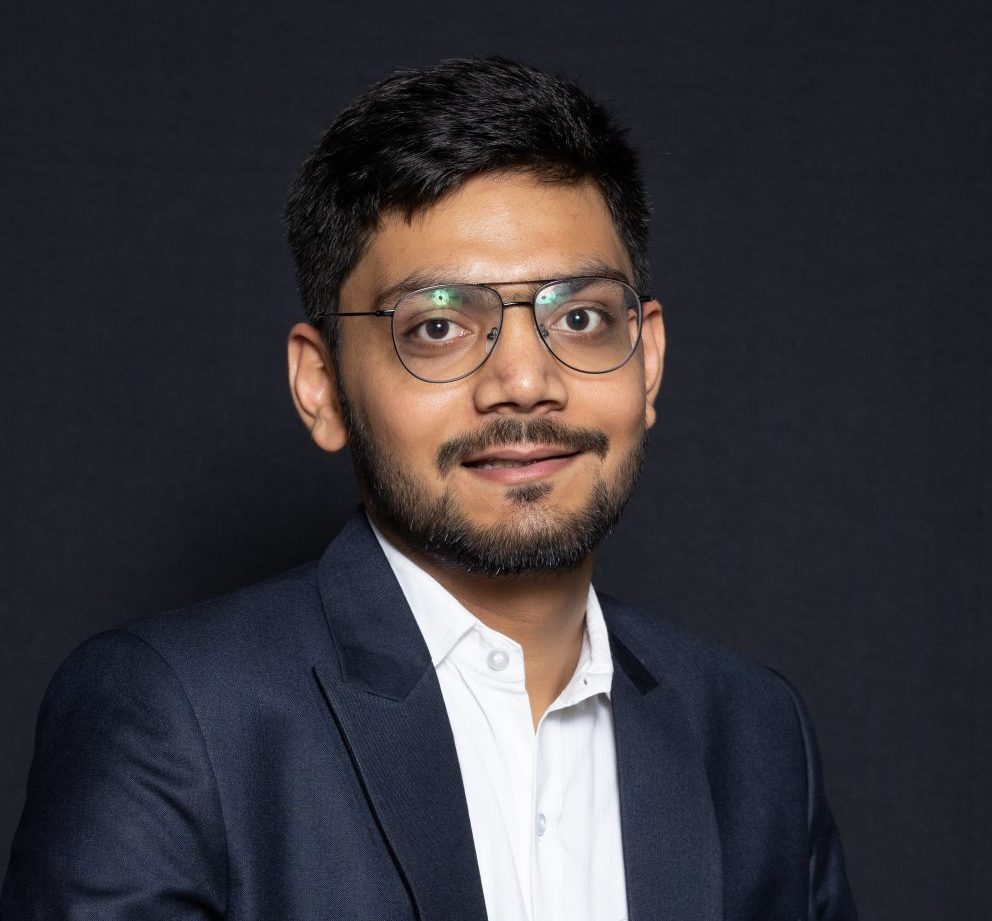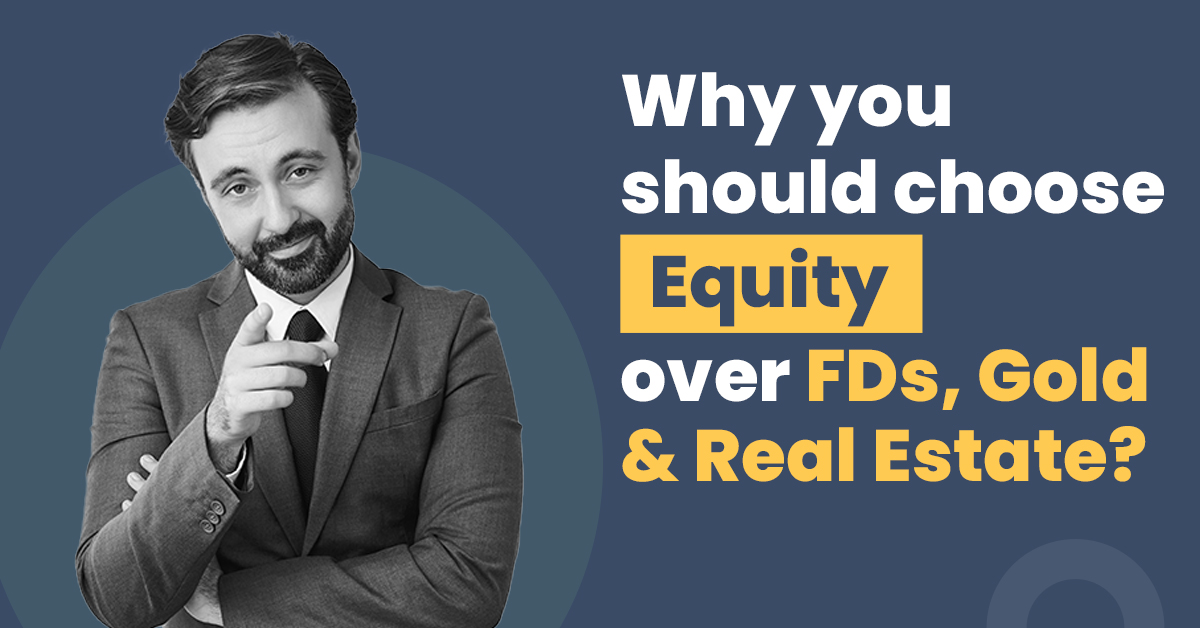 Investing in equity is one of the best options for an investor as it has much more benefits than real estate, fixed deposits, and gold. Although they tend to be quite risky, equities can grow your capital more rapidly when compared to other investment options. Read the details below to know the benefits of equity investments compared to other assets.
What Is Equity Investment?
Securities that are available in the form of stocks or stock-related instruments and offer the investor a certain percentage of ownership in an entity are referred to as equity investment. Investing in a company stock, equity mutual funds, etc., is called equity investment.
Equity investments tend to offer high returns, dividends based on performance of companies and their annual revenue. These investments also provide diversity to an investor's portfolio.
What Are the Types of Equity Investments in India?
Instruments which offer a stake in a company can be considered equity investments.
There are several options when it comes to investing in equity. Primarily, equity investment refers to stock purchase and mutual funds.
Company stakes traded on stock exchanges like National Stock Exchange (NSE) and Bombay Stock Exchange (BSE) are called shares. It is one of the oldest market instruments to raise funds for company operations. You can invest in shares to participate in company's growth and create wealth.
It is the primary type of equity investment. Companies offer dividends to shareholders due to good market performances. Only listed companies shares trade on the stock exchange; however, private companies sell their stocks in the private market as a direct transaction between a company and an investor.
Mutual funds are market instruments that collect a pool of money to invest in a specific category of assets. For example, equity-based mutual funds will invest most of the pooled assets in shares of companies in an attempt to offer high returns to the investors.
This instrument has several benefits, as the pooled capital is managed by a professional, and you can get access to various stocks with one investment.
List of Top Equities in India in 2022
There are more than 500 companies listed on the Indian Stock exchanges, and these companies are ranked by market indices based on their market capitalisation.
The top 100 companies are called large cap stocks and are considered to be safer for investment when compared to mid cap or small cap companies.
The top 5 companies in India as per their market capitalisation are:
| | |
| --- | --- |
| Company Name | Market Capital* (in crore.) |
| Reliance | ₹ 1,729,612.82 |
| Tata Consultancy Services (TCS) | ₹ 1,211,292.37 |
| HDFC Bank | ₹ 891,378.16 |
| Infosys | ₹ 666,307.52 |
| ICICI Bank | ₹ 646,444.53 |
*Data valid as of November 24 2022.
Some of the top equity-oriented mutual funds in India are listed below as per their 3-year and 5-year CAGR:
| | | |
| --- | --- | --- |
| Fund Name | 3 Years Returns* | 5 Years Returns* |
| Quant Cap Small Cap Fund – Direct Plan – Growth | 52.35% | 23.19% |
| Canara Robeco Small Cap Fund – Direct Plan – Growth | 40.47% | – |
| Quant Tax Plan – Direct Plan – Growth | 39.81% | 23.41% |
| PGIM India Midcap Opportunities Fund – Direct Plan – Growth | 38.53% | 19.45% |
| Quant Mid Cap Fund – Direct Plan – Growth | 37.14% | 21.27% |
*Data valid as of November 24 2022.
Also Read: How to Trade Gold Derivatives in Indian Commodity Markets
What Is a Fixed Deposit?
A lump sum amount of money invested for a fixed tenure for a pre-decided interest rate is called a fixed deposit (FD). Unlike equity investment that offers variable returns, FDs offer a fixed interest rate unaffected by market changes and all other factors.
In case of FD, you cannot liquidate the investment amount before its redemption date (banks allow to liquidate depending on the scheme however with some penalty); similarly, no changes affect the interest amount you receive as decided at the beginning of your investment. Upon maturity, you receive the principal amount plus the compounded interest.
Also Read: Experience financial growth with unmatched Bajaj Finance FD Rates
What is Gold Investment?
As gold is a valuable metal with limited supply, it is one of the costliest elements on earth. Due to this, it is a popular choice of asset for investors.
Investment in gold is a simple process to grow your money. The value of this investment grows over time due to appreciation of gold in the market. Therefore, you can grow your capital by purchasing a certain amount of gold and later sell it to redeem your profit.
With advancements in digitisation, investing in gold has become a hassle-free process in the digital world. In addition to physical forms of gold like jewellery, it is also possible to invest in paper/virtual gold through Sovereign Gold Bonds (SGBs) and gold ETFs.
SGBs offer the added advantage of annual interest and tax-free returns besides price appreciation, making it an efficient option when compared to holding physical gold.
What is Real Estate Investment?
Investment in real estate refers to buying and holding property to grow wealth and generate profit. Buying houses, commercial properties, land, etc., is part of real estate investments. Real estate is one asset whose value grows over time and generally don't depreciates.
Reasons Why Equity Is Better Than Fixed Deposit, Gold, and Real Estate
Equity investments offer multiple benefits compared to other forms of investments. Here are some points to explain why equity might be better than FD, gold and real estate:
FD, real estate, and gold have a higher entry-level investment than stocks. You can buy and own several stocks with a minimum amount of capital through a mutual fund. On the other hand real estate investments require a considerable amount of entry-level investment.
Equity investments can work as a strategic wealth generation medium to compete with rising inflation. Historically equities provided returns above 10% annually.
Unlike gold and real estate, equities do not need maintenance or additional expenses. Therefore, it is a cost-saving investment opportunity.
Equity investments have several tax benefits and charge a nominal tax compared to real estate and other investments.
You can diversify your capital in equity. However, gold and FDs do not offer you the freedom to diversify.
Equities offer high returns within 3-5 years compared to real estate and other investments. FDs in India provide approximately 7% return annually, whereas equity returns are between 9-15% annually. Gold and real estate provide high returns over a long period of time. Hence, equity is considered to be a better investment option.
Listed companies provide dividends, bonuses, stock split advantages, etc., to equity investors. These are added benefits to your investment. Unfortunately, these benefits are unavailable for gold, FDs and real estate.
Gold investments, real estate properties, etc., have external risks like theft and damage to property. This is not an issue in equity investments. Equities do not have these external risks that affect the value of the assets.
Equities can be quickly sold and liquidated as they are in constant demand during trading hours. On the other hand real estate have very low liquidity and can take years to turn into cash.
Funds and other equity instruments are managed and assisted by professionals; however, FDs and real estate are managed mainly by investors. Therefore, professional input positively boosts the investment prospect.
Final Word
Investments in equity offer high liquidity and diversity, providing investors with better returns. In addition, they are active market assets that provide ownership stakes to the shareholders.
Equity provides several benefits compared to gold, FDs, and real estate, as we have discussed above. However, the returns heavily depend on market sentiments, which makes it a risky endeavour. Make sure to do thorough market research before going ahead with any investment decision.
Frequently Asked Questions
Q1. What is a gold bond?
Ans. Gold bonds (SGBs) are government securities issued by the RBI (Reserve Bank of India) to promote gold investments through ease of access. Each gold bond is equal to 1 gram of 99.99% pure physical gold and can be purchased with an equivalent monetary value. These are paper forms of gold and are convenient to store and transfer.
Q2. What are the three types of shares according to market capitalisation?
Ans. Market indices rank all listed company equities based on their market capitalisation. Stocks that rank in the first 100 are called large cap stocks, followed by mid cap stocks, which rank between 101st-250th, and equities that rank 251st and below are called small cap stocks.
Q3. Why are small cap equity investments risky?
Ans. Small cap equities have smaller market capitalisation and less stability. Hence, in a poorly performing market, small cap equities are more likely to fall than other equities. However, these stocks also provide higher returns than other equities.
Q4. Why are variable returns better than fixed returns?
Ans. Variable returns are based on performance and not on agreement. For example, in case of equities, your return can range from 5% to 20%, even 30%, if the company performs accordingly. However, in case of fixed deposits, the return is fixed at 7 or 8% even if the market performs very well. Thus, it is more profitable to opt for variable returns.