Money Back Policy: Compare Best Plans in 2023, Features & Benefits
13 min read • Updated 30 October 2023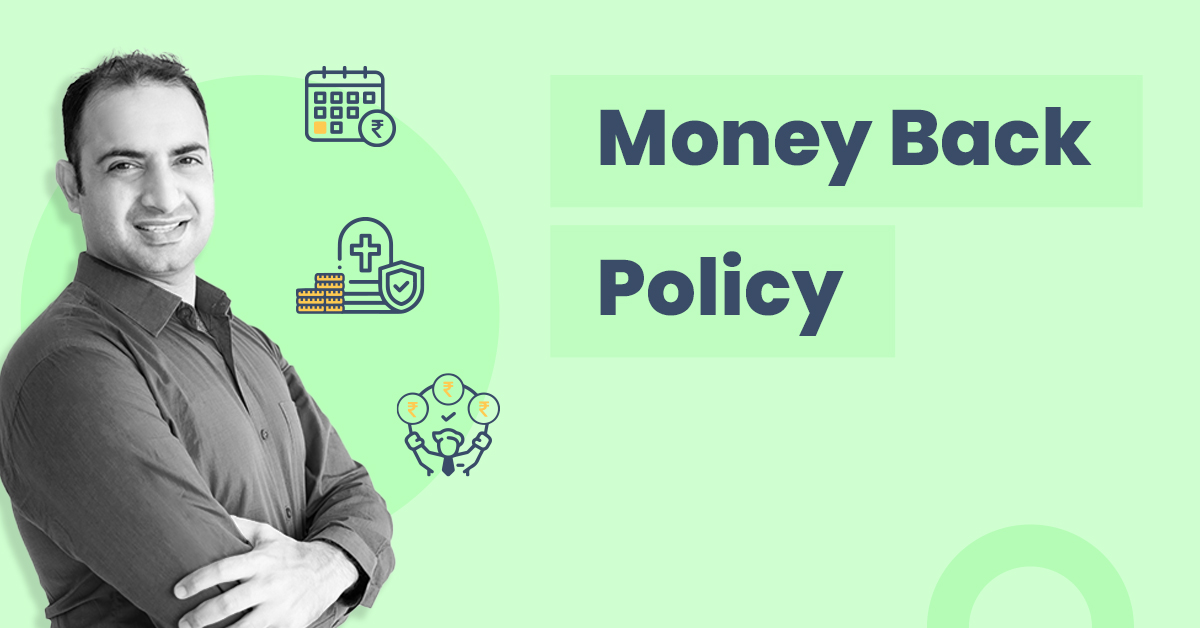 Many of us wish to invest in a traditional life insurance policy to build a guaranteed corpus. However, we run into trouble when we need funds before the tenure is up. Therefore, insurance companies have come up with money-back policies.
Money-back policies are life insurance plans that offer both life cover during the tenure and a lumpsum amount after the tenure is over. Before buying such plans, individuals must compare money-back policies available to make the best decision and obtain the most beneficial plan to meet their needs.
In this article, you'll know the meaning of money-back plans, how it works, their features, and benefits, compare the best plans and how to buy them.
What Is A Money Back Policy?
Money-back policies are a form of life insurance plan that helps complete financial goals or requirements at different stages of life. It is a life insurance policy that provides life cover and regular payouts. Under a money-back plan, a death benefit will be given in case of unforeseen demise of the life assured. It also provides payouts at regular intervals during the policy term, known as survival benefits, which is equivalent to a percentage of the sum assured.
What Is A Child Money Back Policy?
A child money-back policy is a financial plan that, while providing life insurance coverage, provides periodic returns to the policyholder (typically a parent or a guardian) at pre-defined stages or milestones of their children's lives, such as education, marriage, and other significant events.
Suppose the policyholder dies during the policy term. In that case, the child receives the sum insured, and the policy is renewed with future premiums waived, guaranteeing the child receives the intended benefits at the specified intervals.
Why do you need to buy a Money Back Investment Plan?
Before you purchase any policy, you must ask yourself why you need it in the first place.
So, if you want to buy a money-back investment plan, the following are the supporting reasons:
Guaranteed Returns: One of the prime attractions of a money-back policy is the guaranteed return on investment. Unlike market-linked plans, where the returns are subject to market volatility, money-back plans offer pre-determined returns, ensuring peace of mind. You're not just saving; you're earning a guaranteed interest on those savings.
Dual Advantage of Insurance and Investment: A money-back plan is not just an insurance policy; it's also an investment avenue. This means while you are securing the financial future of your loved ones through life coverage, you are simultaneously building a corpus for future financial needs. Over the policy term, you receive a percentage of the sum assured at regular intervals, effectively serving as an income stream.
Regular Payouts with Life Coverage: Money-back plans offer the dual advantage of regular payouts and comprehensive life coverage. The periodic returns can be used to fund milestones or immediate financial needs. At the same time, the life coverage ensures that in the unfortunate event of the policyholder's demise, the nominees are financially protected. This makes it an ideal choice for those who are looking for an instrument that provides both steady income and financial protection.
How Does the Money Back Policy Work?
There are various ways through which the Money Back policy works. Let's have a look at each one of them. 
Premium Payments: The journey begins when you commit to a regular premium payment, either monthly or annually, ensuring that your policy remains active.
Investment by Insurance Company: Your paid premiums are not just stashed away. The insurance company actively invests in them, aiming to generate profits, part of which are periodically returned to you.
Periodic Returns: The unique aspect of a money-back policy is the regular payouts. Instead of waiting till the end of the policy term, you receive portions of your sum assured at specified intervals. This provides a consistent flow of funds, aiding in addressing planned financial milestones.
Bonuses: The allure of the policy gets magnified by the potential bonuses:

Revisionary Bonus: This is a profit-sharing mechanism where a portion of the company's profits, derived from its investments, is periodically shared with eligible policyholders. It's often expressed as a percentage of the sum assured and, once declared, becomes a guaranteed benefit.
Terminal Bonus: This bonus acts as a cherry on the cake, rewarding the policyholder's loyalty at the maturity of the plan. The exact amount is discretionary, based on factors like the company's overall performance and investment returns.

Maturity Benefits: Upon completing the policy term, you receive the remaining balance of your premiums and any accrued bonuses, culminating the policy on a profitable note.
Death Benefit: Life's uncertainties are addressed by the policy's insurance component. In the unfortunate event of the policyholder's demise, a lump sum (death benefit) is handed to the nominated beneficiary, ensuring they have a financial safety net.
Features of Money Back Policy
Guaranteed Payouts: Unlike other policies that depend on market performance, money-back policies offer an unmatched stability. They promise guaranteed returns, making them an excellent choice for those seeking a secure investment.
Income Through the Policy's Tenure: One of the hallmarks of this policy is the periodic income, aptly named "Survival Benefits." These regular payouts can be utilized for various financial needs, from debt repayment to vacation planning.
Maturity Benefits: On completing the policy term, you're entitled to a guaranteed sum, further consolidating its position as a reliable financial instrument.
Robust Financial Safety Net: In the event of the policyholder's unfortunate demise, the nominee isn't left empty-handed. They receive the sum assured along with any accumulated bonuses, making sure that the financial support continues.
Bonus Provisions: There's potential for added gain through bonuses. The reversionary bonus, calculated as a percentage of the sum assured, augments the total payout at maturity or in case of unforeseen events. Additionally, timely premium payments and exceptional company performance could lead to extra bonuses.
Customizable with Riders: Tailoring the policy to one's specific needs is possible with an array of rider options. From covering hospitalization expenses with a hospitalisation rider to ensuring policy continuation with a premium waiver rider in case of inability to pay premiums, these add-ons amplify the policy's protection quotient.
Low-Risk Investment: The market's unpredictable nature doesn't affect this policy. Investing in a money-back plan means you're opting for a low-risk avenue, ensuring peace of mind.
Benefits of Money Back Policy
The money-back insurance policy comes with the following key  benefits:
Survival Benefit
One of the best features of the money-back insurance policy is the Survival Benefit. The payment of the money-back insurance policy usually begins within a few years of purchasing the policy and lasts till the policy matures. 
Death Benefit
A money-back insurance policy comes with the clause of providing the policy nominee with a death benefit in the case of the policyholder's demise. This entails the assured sum and any other bonuses that might have been won while holding the insurance. Although, it's important to note that this does not involve survival benefit, which is only valid if the policyholder is alive.
Tax Benefit
Section 10 (10) D of the Income Tax Act, 1961 exempts the maturity benefit of the money-back insurance policy from taxation. This makes a money-back insurance policy the best investment plan to invest in.  
Maturity Benefit
Upon reaching the end of the policy term, the money-back insurance policy bestows the Maturity Benefit on the policyholder. This encompasses the remaining sum assured and any additional bonuses accrued during the policy's tenure. It's a culmination of the policy's promise to reward holders for their consistent investment and trust over the years. The highlight of the Maturity Benefit is that, even after periodic Survival Benefits, the policy ensures a substantial final payout, making it a highly favoured financial instrument.
Best Money Back Policy in India 2023
While the market is flooded with money-back insurance policies, here are the ones that we think you might find the best money-back policy.
HDFC Life Super Income Plan 
This money-back policy has a premium payment period of eight, ten, or twelve years. In addition, the plan has an annual income guarantee and does not require a medical exam to enrol. Coverage against death for the duration of the premium-paying term and the payout period.
ABSLI Vision Money Back Plus Plan 
ABSLI Vision Money Back Plus Plan comes with a guaranteed survival benefit. A percentage of the Sum Assured will be paid to the life insured under this money-back insurance policy every fourth or fifth year as a survival benefit, depending on the choice made when the policy was first issued.
If the life insured survives the policy term, these benefits will be maintained. To increase the amount of the payout, the survival benefits can be postponed until the next payout. The terminal bonus and the simple reversionary bonus both contribute to the corpus.
Bajaj Allianz Cash Assure
Bajaj Allianz Cash Assure comes with a guarantee of up to 150 per cent of the sum assured. They have four policy periods from which one can choose (16, 20, 24, or 28 years). They have discounted rates for female policyholders. It covers tax benefits, death benefits, surrender benefits, and additional rider benefits as well. 
Comparison of Best Money Back Plans in India in 2023
| | | | |
| --- | --- | --- | --- |
| Feature/Plan | HDFC Life Super Income Plan | ABSLI Vision Money Back Plus Plan | Bajaj Allianz Cash Assure |
| Eligibility (Entry Age) | 18 to 55 years | 18 to 50 years | 18 to 55 years |
| Tenure (Policy Term) | 8, 10, or 12 years | 5, 7, or 10 years | 16, 20, 24, or 28 years |
| Max Age | 60 years | 60 years | 60 years |
| Features | | | |
| Guaranteed Annual Income | Yes | Yes | Yes |
| No Medical Exam Required | No | Yes | Yes |
| Death Benefit Coverage | Yes | Yes | Yes |
| Guaranteed Survival Benefit | Yes | Yes | No |
| Percentage of Sum Assured | 100% | Varies | Up to 150% |
| Option to Postpone Benefits | No | Yes | No |
| Terminal Bonus | Yes | Yes | Yes |
| Simple Reversionary Bonus | Yes | Yes | Yes |
| Special Rates for Females | No | No | Yes |
| Tax Benefits | Yes | Yes | Yes |
| Additional Rider Benefits | Yes | Yes | Yes |
How to Choose the Best Money Back Plans?
Choosing the best money back plans requires one to consider and avoid overlooking certain crucial aspects. Let's take a look at them in aiding your choice:
Sum Assured Limitations: While many money-back plans don't stipulate an upper ceiling on the sum assured, it's prudent to verify the maximum coverage offered. Ensure the plan aligns with the protection quantum you desire.
Coverage Features: Dive deep into the plan's inherent coverage attributes. Seek plans with additional built-in covers that augment the plan's comprehensiveness.
Rider Options: Evaluate the spectrum of riders a plan facilitates. Top-tier money-back plans usually incorporate a diverse range of popular riders, enhancing the policy's versatility and tailored protection.
Premium Affordability: While the cost is undeniably a significant factor, juxtapose the premium against the breadth of coverage. An optimal plan strikes a balance between affordable premiums and robust coverage.
Understand Your Financial Goals: Ascertaining your objectives, be it a consistent income stream or a sizable maturity benefit, can guide you towards a plan echoing your aspirations.
Company Credibility: Lean towards insurers with an impeccable reputation, underlined by a commendable claim settlement ratio and customer feedback.
Eligibility Criteria & Documents Required for Money Back Policy 
Age Criteria: Before buying a money back insurance policy, you should meet the entry age requirements set by the policy providers. Furthermore, the policy cannot extend beyond the maximum age that the policy providers have set.
The policyholder should be able to pay the premium in accordance with the policy guidelines.
Documents: For purchasing a money back policy, these documents are taken into consideration:

Age proof documents
Address proof documents
Application form duly completed
Medical records (if applicable)
Money Back Plan Riders
Money return policies provide policyholders with a solid financial safety net. To further this security, many policies include the option of riders, which provide additional coverage beyond the primary policy text. These riders are designed to cover certain scenarios, providing comprehensive coverage.
Each insurer offers a unique set of riders, influenced by factors such as the policy's terms, tenure, and the insurer's product portfolio. Nevertheless, a common suite of riders frequently paired with money back policies includes:
Accidental Death Rider: This safeguards the financial future of the policyholder's family in the unfortunate event of their accidental demise. As per the stipulations outlined in the rider, an added sum is extended to the beneficiaries, augmenting the primary policy benefit.
Term Rider: A valuable addition, this rider absolves the policyholder from paying premiums under defined circumstances, ensuring that the coverage remains uninterrupted.
Critical Illness Rider: Health adversities like critical illnesses can strain finances. This rider steps in by extending financial support if the policyholder is diagnosed with any of the predefined critical ailments, ensuring funds for treatment without disturbing savings.
Hospitalization Rider: Medical emergencies can be sudden and expensive. With this rider, policyholders receive a daily allowance or a lump sum to tackle hospital expenses, making recovery stress-free.
Concluding Thoughts
Money-back plans are an advantageous financial planning tool because they provide a periodic payout at regular intervals. Furthermore, these policies provide insurance coverage, tax advantages, and bonuses, making plans a safe and secure investment option. These insurance policies are suitable for conservative investors who prefer lower but guaranteed returns on their investments. To find the best life insurance policy, it is best to use an online money-back plan comparison tool.
FAQs
Is it risky to invest in Money Back Policy?
While all policies are risky to invest in, it must be noted that it is less risky to invest in a Money Back Policy than in other policies, for instance, Mutual funds.
Is there a grace period for the payments of premiums?
Yes. Most insurance companies will give you an extra 15 to 30 days after the due date to pay your premiums. If you do not pay the premium, the policy will lapse after a few months, and you will be charged late fees to reinstate it.
Can I make more than one nomination for my policy?
You certainly can. The insurance provider determines the number of people you can nominate. You can also change the nominees at any time.
How can one transfer Money Back Policy?
Unfortunately, it's not possible to transfer a Money Back Policy.
Is my age a factor in the premium I'd have to pay for a money-back scheme?
Age is a major consideration in all insurance plans. The older you are, the higher your premiums will be.
What is the meaning of money back policy?
A money back policy is a type of life insurance plan where the insured receives periodic payments of a portion of the sum assured during the policy term, along with life coverage.
Is money-back insurance policy a good investment?
A money-back insurance policy can be a good investment for those seeking periodic returns and life coverage, but its returns might be lower compared to other investment avenues.
Can I surrender my money-back policy?
Yes, you can surrender your money-back policy, but the surrender value will depend on the number of premiums paid and the policy's duration.
What is the procedure to revive the money return policy?
To revive a lapsed money return policy, you typically need to pay the outstanding premiums along with interest, and possibly submit a health declaration or undergo a medical examination, depending on the insurer's terms.
What are the disadvantages of money-back life insurance policies?
One of the main disadvantages of money-back life insurance policies is that they might offer lower returns compared to other investment options, and their benefits can be eroded by inflation over time.