CIBIL Score Calculations: How is your CIBIL score calculated?
5 min read • Published 17 November 2022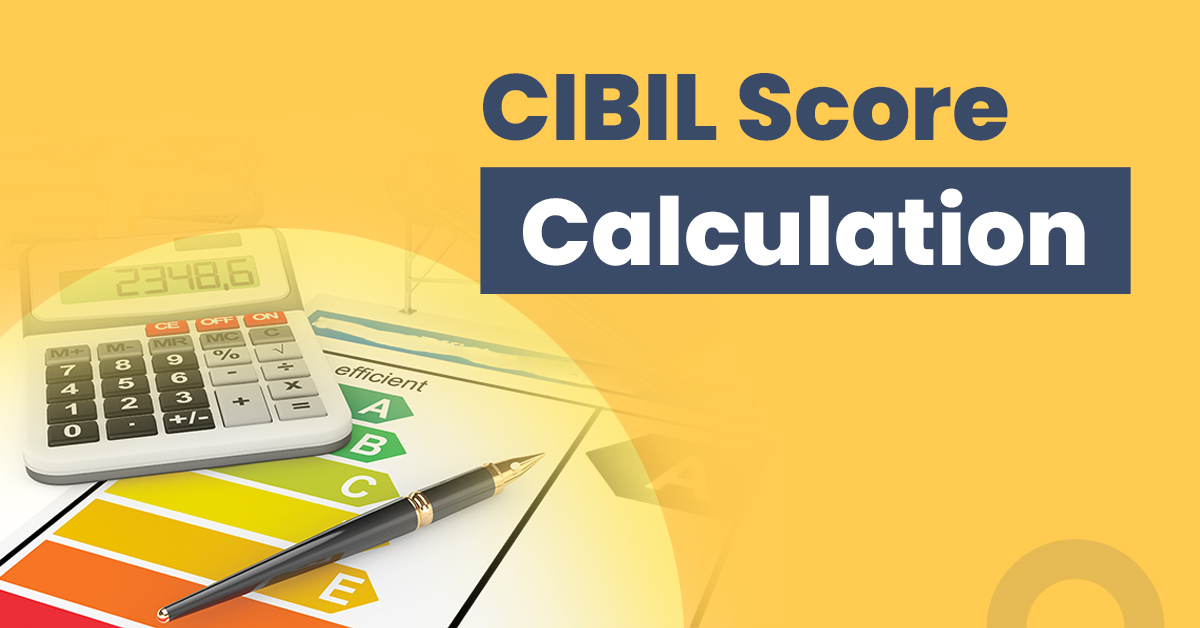 The CIBIL score of an individual is a crucial factor in determining their creditworthiness. Lending institutions refer to this score when sanctioning loan applications. Therefore, a higher CIBIL score increases the chance of credit approvals.
What is a CIBIL Score?
CIBIL score is a three-digit number reflecting the past credit behaviour of an individual. Credit Information Bureau (India) Limited or TransUnion CIBIL is one of the agencies that provide credit scores based on one's capability of timely repayments of outstanding dues in a given period.
Several credit bureaus such as TransUnion CIBIL, CRIF Highmark, Equifax, and Experian conduct this assessment of a person's credit history. However, due to its importance to lending institutions, CIBIL and credit score have become interchangeable jargon in the current financial environment.
The CIBIL score ranges from 300 to 900, with a score higher than 700 being good. Below is an in-depth look at how lenders generally interpret this score.
| | |
| --- | --- |
| Range of CIBIL score | Creditworthiness |
| <600 | Needs attention |
| 600 – 649 | Doubtful |
| 650 – 699 | Satisfactory or fair |
| 700 – 749 | Good |
| 750 – 900 | Excellent |
According to data as of 2020, financial institutions approved credit requests from customers with CIBIL scores above 750 in about 79% of situations.
How is CIBIL Score Calculated?
To assign a credit score, CIBIL conducts an assessment of the available data on the Enquiry and Accounts portion of a CIBIL report. In general, four factors contribute to the final score. These are:
History of repayment
The financial institutions create a detailed report concerning how a borrower complied with the rules and regulations regarding repayments. Therefore, these institutions categorise whether you have settled accounts with overdue bills, Equated Monthly Instalments (EMIs), or credit card payoffs. CIBIL accumulates this information from around 2,400 lending institutions with over 55 crore borrowers to designate a precise score.
CIBIL considers credit behaviour crucial when calculating a credit score. Your payment history has around 30% weightage on the total CIBIL score. Therefore, any adverse financial activity at the borrower's end – such as the inability to put forward monthly instalments on time – can negatively affect the CIBIL score.
Credit type and duration
A borrower can apply for access to formal credit with or without a guarantee by collateral. When calculating your credit score, CIBIL also considers the mix of secured or unsecured credit that you have applied for.
An adequate balance of these two kinds of credit is likely to impact credit scores positively. On the contrary, if a borrower has availed a higher number of unsecured loans, it can reflect adversely on their credit report, as lending institutions may flag the individual as a high-risk borrower.
Similarly, the credit age is also a quintessential factor in this regard. To elaborate, if individuals have paid off their loans over a long-term schedule, it can lead to a higher credit score. A prolonged credit history that does not have major incidents related to delinquency is symbolic of the creditworthiness of a borrower.
Credit utilisation ratio
The credit utilisation ratio of an individual signifies the amount of credit a borrower uses compared to the total credit limit. Therefore, using a comparatively lower portion of this limit can reflect positively on your credit score.
According to financial experts, a lender usually considers a borrower in a positive light if their credit utilisation is less than 30%. This way, the financier can rest assured of your capability to pay off the loans in time and expect similar credit behaviour in future. 
Also Read: Credit Inquiry: Definition, Understanding & Importance
Amount of credit inquiry / hard pull
A hard pull, or a hard inquiry, refers to a formal request by lending institutions to comprehensively review the complete credit report in response to their application for a new line of credit.
Excessive hard inquiries can flag a borrower as a credit-hungry customer and underline the risk of piled-up loans in the future. Therefore, hard inquiries are noted in a borrower's credit report and subsequently contribute to CIBIL score reduction – especially if the loan application is rejected.
Ways to Improve Your CIBIL Score?
Some of the effective ways to improve your CIBIL score include:
Maintaining older credit cards
Never failing to make payments on time
Keeping a tab on the transactional history of a joint account, as any delinquency from the co-signee can also affect you adversely
Routine credit monitoring
Opting for credits with a prolonged repayment window so that the EMI amount remains low
Not opting for numerous new credit lines, especially at the same time
Final Word
The leading credit bureau in India, TransUnion CIBIL, considers several vital aspects of borrowers' past credit behaviour during the CIBIL score calculation procedure. These factors include the ability of the borrower to repay on time, maintaining a balanced credit mix, keeping a lower credit utilisation ratio, and avoiding excessive requests for a newer loan.
Frequently Asked Questions (FAQs)
How can I  check my  CIBIL score online?
Borrowers can visit the official CIBIL website to check their credit scores. Once you have opened this portal, you need to click on the "Get Your CIBIL Score" option. Subsequently, you will need to create an account by providing your details and identity proof. Eventually, you will need to fill in additional information about your lines of credit to generate a precise  CIBIL score. Additionally, you can also opt for a paid subscription so that you can monitor the score throughout the year. 
What are the eligibility parameters for a home loan other than the credit score?
Although the eligibility criteria vary from lender to lender, commonly, individuals aged over 21 years who have a stable job and income are eligible for a home loan. 
How to report mistakes on your credit report?
If there is any error with credit reports, borrowers can visit the dispute resolution area of CIBIL's official website and submit a dispute form online.