Gold is one of India's most popular investment options because of its spiritual and cultural importance. However, when it comes to diversification of portfolios across different asset classes, gold has seen a steep rise in price, especially since 2019. For example, one gram of 24-karat gold was available for around ₹3,200 in 2019, which is more than ₹5,500 per gram now, and has seen a rise of over 70% in such a short period.
You can invest in gold in many ways, such as physical gold, gold mutual funds, gold exchange-traded funds (ETFs), digital gold or sovereign gold bonds (SGBs). This blog will discuss SGBs and the benefits of buying them from secondary markets.
What are Sovereign Gold Bonds?
SGBs are financial securities issued by the Reserve Bank of India (RBI). The underlying asset of these instruments is gold with 999 purity. These instruments provide attractive returns to the investors compared to other gold investment options as they provide regular interest and pay an additional interest rate when it matures.
How to Buy Sovereign Gold Bonds?
The RBI issues SGBs in various tranches throughout the financial year. One can purchase them from commercial banks, post offices, online portals, and stock exchanges. In addition, RBI offers a discount of ₹50 per gram for investors applying for bonds online.
As these bonds are issued in tranches, if investors miss applying for these bonds, they can buy them from the secondary markets.
Buying Sovereign Gold Bonds through the Secondary Market
There are two ways to invest in SGBs. The investor can purchase these bonds from the RBI, the primary issuance of the instruments or can purchase indirectly through stock exchanges, including the National Stock Exchange (NSE) and the Bombay Stock Exchange (BSE).
On the stock exchanges, Sovereign Gold Bonds are traded at a discount to the spot price of gold because the stock exchanges have a low trading volume of gold, resulting in a price difference. Therefore, demand and supply determine the price of SGBs on the stock exchanges, similar to any other securities.
Benefits of Buying Sovereign Gold Bonds from Secondary Markets
Liquidity: Investors know that liquidity plays an essential role in the secondary market, and they cannot buy any series of SGBs randomly. The bond should have a high volume. According to experts, the top traded issues of SGBs have an average daily volume of approximately 5,000 grams.
Interest Factor: SGBs provide an simple interest of 2.5% every six months, and the interest is provided on the issue price of the bonds and not on the purchase price in the secondary markets, and that is the reason you should not settle for the lowest trading price while purchasing SGBs from the secondary market. However, you can benefit from the price, the buying price must be lower than the issue price of the bonds, and it is a better deal to buy top traded series to avoid any hassle during redemption. For example, the purchase price of SGBAUG28V is ₹4,775 after a discounted price which is ₹5,334 per unit. If you compare it with the latest series, the particular bond will offer a lower purchasing price per unit in the secondary market. Moreover, it will provide a better interest and mature a year earlier. Therefore, investors who purchase SGBs from the secondary market can increase their overall gains by getting a discounted price compared to the new issue.
Taxation: Another benefit of investing in SGBs is taxation. If you sell SGBs at maturity, there are no taxes on the capital gains. However, you have to pay taxes on the interest received. And the same applies when you purchase these instruments from the secondary market for residual maturity. Comparing it to physical gold, the investors must pay a short-term capital gain (STCG) tax per their tax slab rate.
Should You Purchase SGBs from the Secondary Market?
Buying SGBs from the secondary market can be lucrative, but investors should not purchase from the secondary market solely because of its discounted price. SGBs are issued in batches and have various maturities. And investors who can hold their investment until it matures should consider buying SGBs from the secondary market.
On the other hand, if you withdraw money before the instrument matures, you may need help with pricing, which you are currently getting by purchasing SGBs from the secondary market.
Also, you may lose the tax benefits on SGBs. They are free from taxes if you hold them until they mature. If you have it for more than 36 months, the indexation benefit applies to the 20% capital gain taxes on selling SGBs prematurely and the short-term capital gains are taxed as per the tax slab of individuals.
Final Words
The introduction of Sovereign Gold Bonds has made gold investment much more accessible. The investment is open in primary and secondary markets both. You can notice a low trading volume of SGBs in the stock exchanges. However, an investor may get many benefits if they purchase it from the secondary market, such as tax benefits. The benefits increase when an investor buys a liquid series and a low trading price compared to the issue price and a new issue.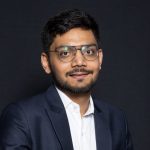 Vaibhav is Chartered Accountant by profession, having experience of 4+ years in banking & finance sector.
Since past one year associated with Wint Wealth as Credit Principal. Previously worked with Northern Arc Capital for 2 years in FI-Credit Team and AU Small Finance Bank for 1 year in LAP-Credit Team.
Was this article helpful?