What Are Overnight Mutual Funds? How Can You Invest in Overnight Funds?
8 min read • Published 19 October 2022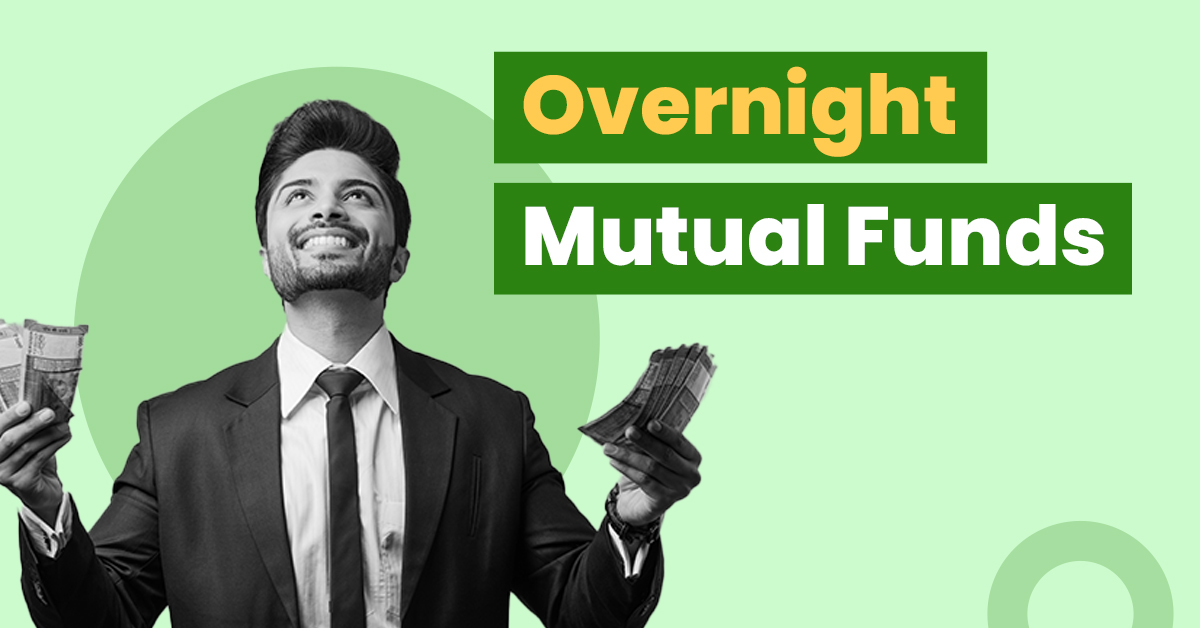 An overnight mutual fund is one of the safest mutual funds you can consider parking your money in. These funds are open-ended debt schemes that invest in overnight securities, which have a maturity period of one day.
When it comes to overnight mutual funds, the securities in a portfolio mature every day, and the fund manager utilises these proceeds to purchase new securities that will mature the next day. Since these securities stay exposed to the market for a very short time, overnight funds do not carry much default risk.
How Do Overnight Mutual Funds Work?
To understand the meaning of overnight funds in detail, read the following details about its workings:
Overnight funds only earn through interest payments on their holdings. These funds cannot earn capital gains as the underlying securities mature in a single night. Moreover, returns made through such funds reflect overnight lending and borrowing rates. During a fall in interest rates and an abundance of short-term liquidity, overnight rates in the market will also fall, and vice versa.
Following SEBI norms, overnight funds invest in assets such as Collateralised Borrowing and Lending Options (CBLOs), reverse repos and money market or debt securities with a maturity period of a day. The portfolio containing such securities is replaced the following day with new overnight securities.
It is crucial to note that these funds do not invest in risky debt instruments, as they aim to lower the overall investment risk.
Advantages of Overnight Mutual Funds
Overnight funds are often regarded as the safest mutual fund among all debt funds. That said, here are a few benefits that these funds exhibit:
Overnight funds are the safest investment option among all debt funds. They entail minimum credit risk and interest rate risk. Since these funds invest in overnight securities, there are no chances of incurring capital gains or losses.
Furthermore, the fund value is not volatile and rises slowly due to interest income. It is also highly unlikely for funds maturing within a day to default on interest payments.
Offers a flexible holding period
You can hold your investment in an overnight fund for as long as you wish. In simple terms, entering and exiting the fund is incredibly convenient due to the high liquidity of overnight securities. Thus, investors can earn stable returns with nominal risks.
Overnight funds are low-cost debt funds. This is mainly because their debt holdings do not require active management. Most overnight funds levy an expense ratio of around 1%.
Who Should Invest in Overnight Mutual Funds?
Overnight mutual funds are an ideal investment option for individuals seeking the benefit of investment for the short term. Overnight fund returns are reasonably stable, and they entail minimal risk.
You can consider investing in such a scheme under the following circumstances:
Investors with a short time horizon
Overnight funds are a suitable choice for investors with a time horizon as short as one week or even less. This is because these funds are redeemable after a single day. Such flexibility is one of the major attractions of overnight funds.
Investors wanting to route investments to equity funds
Investors who want to avoid going through any risks until investing in certain equity funds can also park their surplus cash in overnight mutual funds. Later on, they can use a Systematic Transfer Plan (STP) to route investments to an equity fund.
This will ensure that they receive substantial returns from an equity fund while successfully holding cash in an overnight fund for the time being.
How to Invest in Overnight Mutual Funds?
Investing in Overnight funds is hassle-free online. You simply need to follow these steps:
Step 1: Visit an AMC of your choice and navigate to the 'overnight funds' option.
Step 2: Enter your personal details.
Step 3: Enter the amount you wish to invest and the maturity period.
Step 4: Complete your e-KYC requirements.
Step 5: Invest in a suitable scheme from the list and transfer money.
Taxation of Overnight Mutual Funds
Overnight funds feature similar taxation rules as that of any other debt fund. You can earn dividends as well as capital gains from your investment in such funds. For dividend income, you will have to pay taxes depending upon your income tax slab rate.
Capital gains refer to profits from differences between the value at which you purchase the units of mutual funds and the value at which you redeem them. They are categorised into short term capital gains (STCG) and long term capital gains (LTCG).
When you hold any debt mutual fund for less than 3 years, the proceeds earned from such an investment are called short term capital gains. On the other hand, returns earned by holding a debt MF for 3 years or more are called long term capital gains.
Taxation of capital gains as per holding period is mentioned below:
| | |
| --- | --- |
| Type of Capital Gains | Tax (%) |
| Short term | As per income tax slab rate |
| Long term | 20% + indexation benefit |
Things to Consider before Investing in Overnight Mutual Funds
Although overnight funds are the safest mutual fund category in the market, you should consider a few factors before choosing this investment avenue. These factors are:
Every debt fund comes with varying levels of risk. Although overnight mutual funds are the safest option, they are not completely risk-free. However, overnight funds may be a suitable option if you have a low-risk appetite.
A fund's past returns are yet another essential factor you should consider before making an investment decision. Evaluating a fund's past performance will give you a fair idea about how the fund might perform in the coming times.
The expense ratio is the amount of fees that a fund house levies in return for its investment-related services. This can significantly affect the returns from overnight funds as they offer only modest returns. So, make sure to choose a fund offering the lowest expense ratio.
Fund manager's record and experience
The fund manager's record is one of the most crucial things to consider while investing in mutual funds. When it comes to overnight funds, they do not require much active management. However, analysing the past performance of a fund manager will help you know the strategy they adopt.
Now that you have read about the important details check out the top overnight funds in India for 2022 to invest in.
List of Best Overnight Funds to Invest In
The following are the best overnight mutual funds based on their past 1-year returns:
| | |
| --- | --- |
| Name of Overnight Mutual Fund | 1-Year Annualised Returns |
| Bank of India Overnight Fund- Direct Plan- Growth | 3.94% |
| HSBC Overnight Fund- Direct Plan- Growth | 3.86% |
| Mirae Asset Overnight Fund- Direct Plan- Growth | 3.85% |
| Mahindra Manulife Overnight Fund- Direct Plan- Growth | 3.85% |
| PGIM India Overnight Fund- Direct Plan- Growth | 3.75% |
| DSP Overnight Fund- Direct Plan- Growth | 3.72% |
| Axis Overnight Fund- Direct Plan- Growth | 3.68% |
| LIC MF Overnight Fund- Direct Plan- Growth | 3.68% |
| Nippon India Overnight Fund- Direct Plan- Growth | 3.68% |
| Aditya Birla Sun Life Overnight Fund- Direct Plan- Growth | 3.67% |
 *The data in the above table is valid as of August 30, 2022.
Final Word
Overnight mutual funds are one of the safest investment options that offer steady returns within just one day of holding. They are extremely liquid and allow instant redemption. So, you can choose to park your surplus cash in these funds instead of leaving them in a savings account. The above-detailed guide about overnight funds will help you make an informed investment decision.
FAQs about Overnight Mutual Funds
What is better – FD or overnight funds?
While most mutual fund schemes are long-term investments, overnight funds offer stable returns on a very short-term basis. When you opt for an FD, you have to pledge for its lock-in period. There is no lock-in period on overnight funds. The benefit of flexibility and liquidity is what makes these funds a popular investment option.
How much do I need to invest in overnight funds?
There is no fixed minimum investment limit for an overnight mutual fund. Different fund houses tend to have different investment limits for mutual funds.
How safe are overnight mutual funds?
Overnight funds are held for a night or a single day. Thus, they are less exposed to market risks than other debt funds. Their market value is hardly affected by changes in the market interest rates. Thus, it is imperative that these funds are a safer investment avenue.
How is the NAV of overnight funds calculated?
The Net Asset Value (NAV) of an overnight fund is the total market value of all assets held by the scheme, and it changes on a day-to-day basis. For overnight funds, the NAV is calculated every day at 12:30 PM. Redemption of these debt funds is approved by 1 PM.