What Are Direct Plans and Regular Plans for Mutual Funds?
12 min read • Published 11 November 2022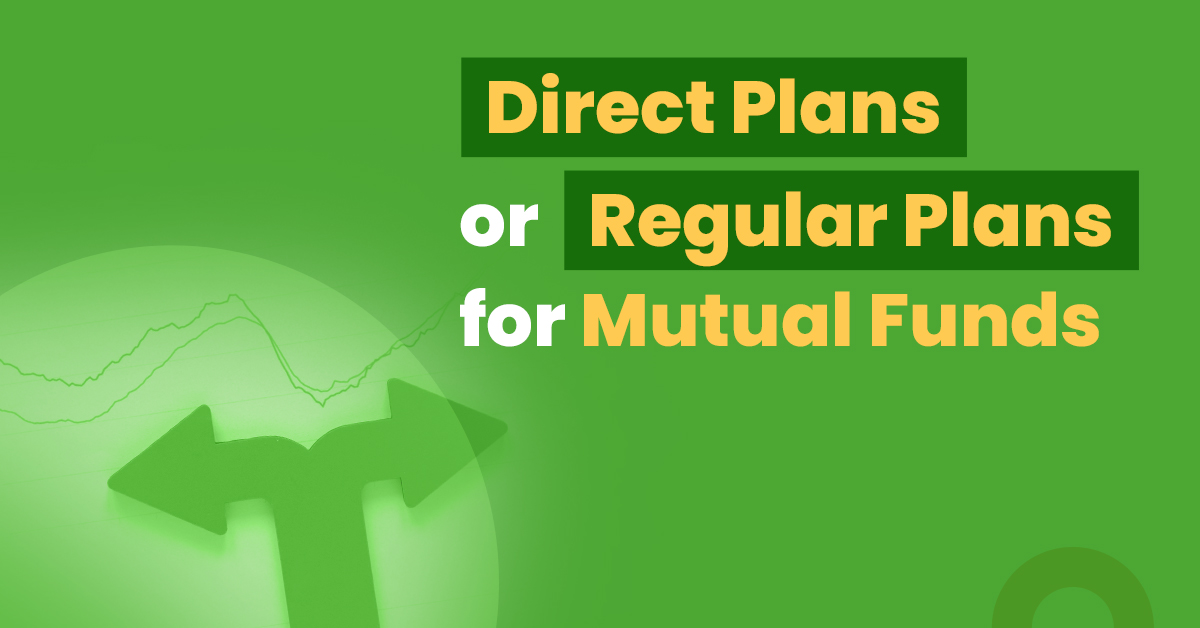 SEBI introduced the concept of direct plans for mutual funds in 2013. Before that, brokers were free to levy charges to clients for providing their advisory services. Since January 2013, all mutual fund houses have to offer two categories for the same fund scheme- direct and regular plans.
This means that both funds have the same portfolio managed by the same fund manager. However, the charges of regular and direct plans are different.
This blog covers the concept of direct and regular plans in mutual funds and their differences.
What Is a Direct Mutual Fund Plan?
Whenever an investor goes to invest in mutual funds, he/she will notice that the same mutual fund is offering two options – one is a direct plan, and the other is a regular plan.
The investor purchases the fund units directly from the Asset Management Company (AMC) in a direct mutual fund. This means no intermediary, like an agent or a distributor, is involved in the transaction.
As a result, investors do not have to pay any commission, and the expense ratio will be lower for the direct plan. This will also lead the investors to get a higher return if the fund performs well, and they will take home more percentage of their profits.
If you wish to invest in direct plans in a mutual fund, look for the word 'direct' in the name of the mutual fund. For example, 'ICICI Prudential Technology Direct Plan Growth' and 'SBI Small Cap Fund Direct Growth' are two direct mutual funds. Furthermore, you can invest in a direct plan mutual fund offline and online.
What Is a Regular Mutual Fund Plan?
In the case of a regular plan, investors invest their money into their choice of a mutual fund through an intermediary. Such intermediates can be distributors, agents, brokers and bankers. The AMC pays a distribution fee to such intermediaries, adding the amount to the cost of the mutual fund. As a result, the expense ratio of the mutual fund increases.
Historically, it has been noticed that such regular plans carry a higher expense ratio than direct plans. For the same scheme, their returns are not as high as that of direct plans. Therefore, only investors with insufficient knowledge about the market and mutual funds tend to invest in such funds.
In this case, the investor does not have to frequently monitor the market conditions and the performance of their fund units. Such investors also take advice from financial experts while paying a nominal fee to them for their assistance.
To identify a regular plan mutual fund, one needs to look at its full name. It can have a 'regular' word or not contain any suffix. For instance, PGIM India Midcap Opportunities Fund Regular-Growth and Axis Long Term Equity Fund Regular Growth are two regular plan mutual funds.
What Are the Differences Between a Direct and a Regular Plan?
As we already know, the major difference between a direct plan and a regular plan is its costs. While in a regular plan, the AMC has to pay a sum of money to distributors, in a direct plan, no such cost is involved. The other differences between these two plans are illustrated in a tabular format below:
| | | |
| --- | --- | --- |
| Parameter | Direct Plan | Regular Plan |
| Third-party | There is no third party involved in direct mutual funds. | Intermediaries are required if investors purchase regular mutual funds. |
| NAV (Net Asset Value) | Fund managers adjust the Total Expense Ratio (TER) from the NAV. The TER is less in direct plans. Moreover, the NAV of mutual funds with direct plans tend to be higher. | Since the fund house has to pay the distributors to sell their fund units, it has to adjust it against the NAV.As a result, the total expense ratio is high, and NAV tends to be lower. |
| Returns | Usually tends to be higher as the TER is low. | The returns are lower than direct plan mutual funds. |
| Financial advisor's role | The financial advisor is not involved. | In a regular plan, distributors, agents, and brokers help the investor during the investment period. |
| Expense ratio | The expense ratio is lower because the investor will invest directly from the AMC. | Since AMC has to pay a distribution fee to a third party, the expense ratio is high. |
| Market research | The investor does the market research using mobile apps of the AMCs and other tools. | A financial advisor does market research on behalf of the investor. |
| Investment advice | Investors who invest in direct plan mutual funds will not receive any investment advice from the fund houses they are purchasing from. | Investors who apply to regular plans will have a scope to get financial advice from expert advisors whom the AMC is paying a commission and with a lot of knowledge in the field. |
| Simplicity | The process of investing in direct plans is uncomplicated. Individuals are not required to deal with any distributors or agents. | If you invest in a regular plan, then you will be required to communicate with the agents. This might complicate the investment procedure. |
What Are the Advantages of Direct Plans over Regular Plans?
There are numerous reasons why one should choose to invest in direct plans over regular plans in mutual funds, and they are:
Lower expense ratio- Direct plans in mutual funds tend to have a lower expense ratio because the AMCs do not have to pay any distribution fee. So, it does not lead to any adjustment in the TER. In contrast, regular plans are bought from distributors and financial advisors, who charge a fee for their services. This gets added to the expense ratio.
Higher Net Asset Value- The investors who invest in direct plans will receive a higher NAV because there are no additional costs. So the same investment amount will lead to a higher NAV. Additionally, the expense ratio is low, so the final return that the investor will receive will be higher than a regular plan if the mutual fund performs well.
What Are the Advantages of Regular Plan over Direct Plan?
Regular plans have a higher expense ratio and tend to give lower returns than direct plans, but they have some advantages over direct plans. These advantages are:
Professional advice- When an investor chooses to invest in mutual funds through an intermediary like distributors or agents, they get expert financial advice. These distributors and agents have been reviewing and monitoring various mutual funds in the market for quite some time. As a result, they will have extensive knowledge about a wide range of mutual funds. These intermediaries will look into the investor's profile and consider their risk tolerance, then suggest a mutual fund that will be appropriate for them. The advisors will not only guide the investor throughout the investment journey, but the individual will also gain knowledge about the market from them.
Convenience- Investing in mutual funds is a tricky process. First, you need to evaluate your investment needs before moving further with investment decisions. Various mutual funds are available in the Indian market, and these funds carry different risks and generate different returns. As an investor, you need to assess your risk appetite and financial goals. In the case of a regular plan, the advisor will do this task for you. There will be no such advantage in a direct plan as you must do everything independently. Financial advice is also convenient for first-time investors.
Regular portfolio monitoring- Investors find it difficult to keep up with the ever-changing market. Here, the advisor will track the market and observe the performance of the mutual fund. If there is a scenario where you need to restructure your portfolio, then the advisor will help and inform you in time.
However, you must be careful. You must take up regular plans from experienced intermediaries only. Mutual fund distributors are required to have a registration and certification with the Association of Mutual Funds of India (AMFI). Other intermediaries like brokers and investment advisors etc are registered with SEBI.
But just these registrations are not enough, you must do your diligence to see the quality of clients and the amount of money managed by these intermediaries to decide which the third party you would want to deal with.
Choosing the right expert is also extremely important as there are various parties who may also be registered appropriately but they might not always work in the best interests of their clients.
How to Invest in a Direct Plan?
Investors can invest their money in direct plan mutual funds online and offline. These various methods are discussed below in a step-by-step guide:
Online method
Through the AMC
Step 1: Create an account with AMC on its official website and provide all important details like name, address, Aadhaar and PAN details, etc.
Step 2: Choose a mutual fund that fits your requirement and then select a direct plan.
Step 3: You will then have to choose between growth and dividend options, and this choice should be based on your investment goals which you want to achieve.
Step 4: Select an investment type that is SIP or lump sum. Then, select the holding type (Demat or non-Demat) account.
Step 5: Lastly, you will be required to enter bank details and select a mode of payment like NEFT, IMPS, etc.
Step 6: To complete the transaction, you need to verify by inserting an OTP that will be sent to your registered contact details.
Step 7: If you wish to purchase any more fund units in the future, you can do so by logging into the same account.
Through the Mutual Fund Utilities (MFU)
Step 1: The first step is to generate a Common Account Number (CAN) with the MFU. This number will help you map all your mutual fund portfolios across various AMCs in one place.
Step 2: Create an account with the MFU, and then, you can invest in mutual funds with a direct plan from any AMC.
Step 3: Choose amongst SIP or lump sum for investment mode. Then, enter a few more details related to investments and complete the transaction process.
You can also use other digital channels like various investment platforms to invest in a direct plan of a mutual fund online.
Offline method
Step 1: Visit the offline branch of an AMC of your choice.
Step 2: Submit a form with self-attested copies of documents like address proof, Aadhaar card, etc.
Step 3: Fill in an application form for your choice of mutual fund and then tick on the direct plan option.
Step 4: Like the online method, you will now have to choose between growth and dividend option and investment method, etc.
Step 5: You have to submit the cheque or demand draft in the name of the AMC for payment. The AMC will provide you with the folio number and account statement.
Now that you know how to invest in direct mutual funds through offline and online methods let us learn how to invest in mutual funds with regular plans.
How to Invest in a Regular Plan?
If you wish to invest your money in regular plan mutual funds, you can do that via the online investment platform of a broker/distributor. The steps are:
Step 1: Create an account on the online platform.
Step 2: Choose a mutual fund.
Step 3: Click on the regular plan.
Step 4: Select an investment mode amongst SIP and lump sum.
Step 5: Enter personal details like name, bank details, etc.
Step 6: Complete the transaction by transferring money.
Final Word
If you are confused about which plan to choose between a regular and a direct plan, then the choice is quite simple. If you are looking for an advisor or broker who will also offer you additional services like financial advice during your investment period, then opt for a regular plan of the mutual fund.
However, if you do not wish to pay the extra commission and want to take a hands-on approach to your investment, then opt for a direct mutual fund plan. But, again, as an investor, you need to make informed choices by evaluating both plans' pros and cons.
Frequently Asked Questions
I have invested in a regular plan. Can I change it into a direct plan?
Yes, you can switch from a regular plan to a direct plan during your period of investment. You need to send a request to your AMC for the mutual fund in which you have invested your money. The AMC will treat this as a normal redemption or switch and may charge an exit load to you if applicable. Also, you will have to pay taxes based on the period you have decided to make the switch.
How are commissions paid to financial advisors and mutual fund distributors?
These days, financial advisors or distributors receive an ongoing commission. This means the advisor will keep receiving the commission until you are invested in the mutual fund. Furthermore, the present market value of your funds will decide the amount of commission they will receive.
How will I know the total expense ratio between a regular and direct plan for the same mutual fund?
The AMC monthly factsheet is provided on its official website. This monthly factsheet discloses the total expense ratio of a mutual fund's regular and direct plans. You can download it from AMC's website to learn about the regular and direct plan TER.
How can I tell if my mutual fund is regular or direct?
One of the major differences is that you will have to pay a distribution commission if you invest in regular plans. As a result, the TER will be more in regular plans. Moreover, you will be given a choice to select between regular and direct plans before you start investing.