Invest With Rs. 500 in Mutual Funds – SIPs Starting Rs. 500
7 min read • Published 27 October 2022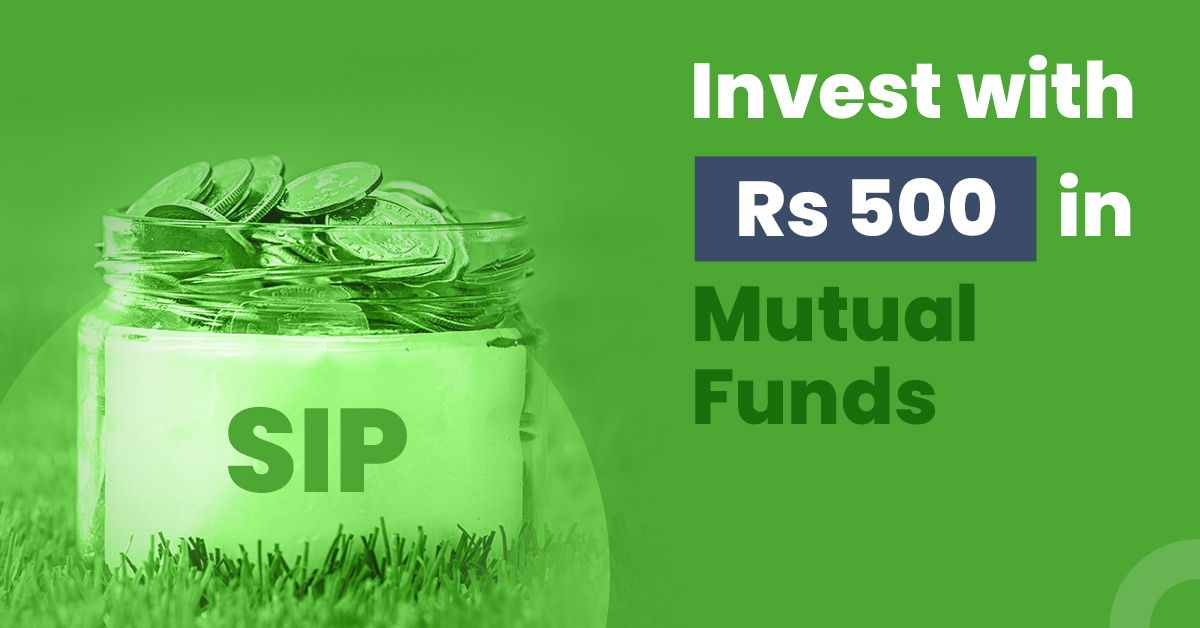 If you are looking for an extra source of income alongside your monthly salary, you can try investing some of your savings in mutual fund schemes. With even small savings, you will be able to grow a considerable sum of money, if you keep on investing.
There are two modes through which you can invest in mutual funds: as a lump sum amount and the SIP (Systematic Investment Plan) method. While the former involves making a one-time investment, SIPs let you invest small sums regularly. There are even mutual funds with a minimum investment of Rs. 500, so you can start investing any time you want.
What is a SIP?
It's important to understand the meaning of SIP in mutual funds because it's not an asset in itself, but only a mode of investing in mutual funds. SIP is a Systematic Investment Plan that allows investors to invest their savings automatically at pre-decided fixed intervals from their bank account to a fund scheme. The investor can choose how much to invest via SIPs and the frequency, which can be weekly, monthly, quarterly, semi-annually, or annually.
If you are a risk-averse investor or do not have much savings on hand at the moment, but still want to start investing, you can use SIPs as an investment method. However, SIPs are an effective method of investing across all categories of investors depending on the goals and risk appetite of each investor.
You can start investing in mutual funds every month under the SIP mode with as low as Rs 500. This way, you can see and evaluate how the fund performs. If the fund performs as the way you had expected, you also have the option to increase your monthly SIP amount in the future.
When you want to invest in a mutual fund scheme via SIPs, you must remember that creating wealth via mutual funds is a long process. Therefore, you will want to be patient as an investor and consider all the risks accompanying these investments and funds.
List of Best SIP for Rs 500 Per Month
| | | |
| --- | --- | --- |
| Name of the Mutual Fund | Type of Mutual Fund | 5 Year Annualised Returns |
| PGIM India Flexi Cap Fund Direct-Growth | Flexi cap fund | 17.01% |
| SBI Focused Equity Fund Direct Plan-Growth | Flexi cap fund | 15.72% |
| UTI Flexi Cap Fund Direct-Growth | Flexi cap fund | 15.71% |
| Invesco India Contra Fund Direct-Growth | Contra Fund | 15.67% |
| Sundaram Focused Fund Direct-Growth | Focused fund | 14.46% |
| Nippon India Index Fund S&P BSE Sensex Plan Direct-Growth | Index fund | 14.23% |
| UTI Value Opportunities Fund Direct-Growth | Value fund | 13.91% |
| DSP Flexi Cap Fund Direct Plan-Growth | Flexi cap fund | 13.57% |
| ICICI Prudential Bluechip Fund Direct-Growth | Large cap fund | 13.07% |
| SBI Flexicap Fund Direct-Growth | Flexi cap fund | 12.47% |
*NAV & Returns as of August 26, 2022
How Do SIPs Work?
SIP is a popular route investors often choose in India to invest in mutual funds. When an investor chooses to invest via SIP, one needs to decide on four things which are:
The fund scheme to invest into
Amount to invest in each instalment
The frequency of payment
The day on which the investor's bank will automatically deduct the amount
How an SIP works can be easily explained with an example.
Assume you have approached a particular AMC on 20 October 2022, directly or through any other online or offline portals. You have decided the mutual fund scheme you want to invest in and you are wanting to initiate an SIP of Rs 500. You have selected a monthly SIP plan and instructed the fund manager that the amount should be deducted on the first business day of every month. In this case the start date would be 1st November, 2022.
The fund manager will:
Initiate a monthly SIP plan in your decided fund
Set-up automatic deduction of Rs 500 from your bank account directly
The deduction will be made on the first working day of each month
Post receipt of payment, the fund manager will allot units to you from the selected fund at the applicable NAV
This process continues until an investor terminates the SIP.
What Are the Benefits of Investing via SIPs?
As an investor, you can start investing in some of the best SIPs for Rs. 500 per month. The following are some of the benefits of investing via SIPs:
Convenient to invest- SIPs are becoming increasingly popular, and the convenience that it offers to investors is a significant reason behind such popularity. If you choose the SIP route, you will not have to worry about setting aside funds every month. Instead, you need to issue standing instructions to your bank. Every month/quarter and on a predetermined date, the bank will auto-debit the amount from your account and deposit it in the fund of your choice.
Helps in investing regularly- As previously stated in this blog, if you choose the SIP mode for the investment, you can invest quarterly, monthly or every six months at a pre-fixed date. Since the money is automatically debited, this inculcates a habit of investing regularly in investors. As a result, they do not have to evaluate the market all the time.
Rupee cost averaging– This is a significant advantage investors get when they invest money in mutual funds via SIP. When you systematically invest a specific sum of money at periodic intervals, you get to purchase more fund units when the prices are low and a lower quantity of units when the prices are high. This reinforces the fundamental principle of investing i.e. buy-low and sell-high. Further, this brings down your average cost per unit over the long-term.
Power of compounding- Mutual funds can potentially turn the investor's small initial investment into sizable returns as the scheme matures. If the investor does not redeem his/her profits, the AMC will reinvest the same in the mutual funds, leading to the compounding of returns.
What Are the Differences between SIP and Lump Sum Investments?
Lump sum and SIP are the two modes of investment through which one can invest his/her savings in mutual funds. We have illustrated their differences in a tabular format below:
| | | |
| --- | --- | --- |
| Components | SIP | Lump Sum |
| Investment Amount | Investors can start their investing journey with as low as Rs. 500 per month. | Investors who have a large sum of money in their savings can invest via this investment mode. |
| Risk Appetite | SIP is potentially safe for risk-averse investors. People with low-risk appetites can start investing with a small amount and increase the amount if the fund performs well. | Historically, it has been observed that investors with higher risk appetites tend to take the lump sum route for investing in mutual funds. |
| Investment Flexibility | SIP is well known in the market because it offers high flexibility to investors. | The lump sum investment method does not offer much flexibility to investors while investing. |
| Cashflow | Investments are made systematically in a periodic manner. | Investors need to make a one-time payment in this route of investing. |
Final Word
SIP is a standard investment method that all mutual fund schemes in India offer. It has become popular because it allows investors to invest small amounts of money regularly. Moreover, the entire method happens in a very disciplined manner.
One can quickly start investing in mutual funds with a minimum investment of Rs. 500. In this blog, we have listed some of the best-performing mutual funds with a SIP of Rs. 500.
Frequently Asked Questions
How much can I invest via SIPs?
There is no maximum limit when you want to invest in mutual fund schemes via SIPs. The amount you will pay monthly or quarterly is decided based on your financial goals and the total returns you want to achieve when the mutual fund matures. You can start investing through SIPs at just Rs. 500 per month.
Can I miss paying SIP for a month?
As an investor, you need to make your SIP payments regularly. The bank will auto-debit the amount from your bank account on each due date, but if you do not have the required balance in your account, it will stop. 
If you face any financial crunch while investing via SIPs, you can temporarily pause payments. Then, once your financial situation is more stable, you can resume investing via SIPs. 
What are the different types of SIPs?
There are three different types of SIPs, and they are:
Fixed SIP
Top-up SIP
Perpetual SIP
Flexible SIP