How Does Making Minimum Payments Affect Credit Scores?
6 min read • Published 13 November 2022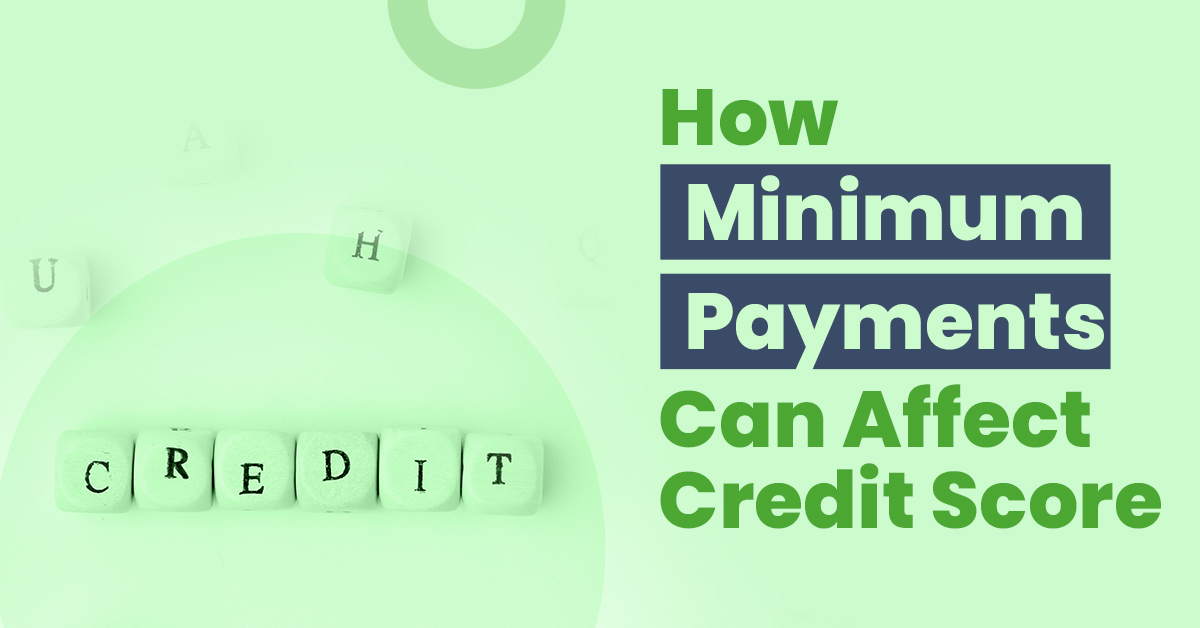 Your credit card provider tracks your repayment history to generate reports that are sent to the credit bureaus each month. Although credit card users are required to pay the total outstanding balance for a particular billing cycle, at times they fail to do so and pay only the minimum amount due.
Knowing that you can be eligible for more loan approvals in future by paying a nominal minimum amount can tempt you not to make an effort to pay more. But following this pattern of repayment can be costly in the long run. Continue reading to know why.
What Does the Minimum Amount Due on a Credit Card Statement Signify?
The outstanding balance on your credit card statement includes all your credit purchases in the present billing cycle and the pending amount of the previous month. While analysing a credit card statement, you witness a minimum amount due on the total outstanding balance. Your credit card provider will not accept any payment less than this minimum amount.
The minimum amount due is generally 5% of the outstanding balance. However, if the outstanding balance includes the following expenses, the minimum amount due for a billing cycle will be more than 5%:
Spending more than sanctioned credit limit
EMI purchases
Unpaid amount from the previous billing cycle
Why Do People Assume Paying Just the Minimum Amount Due Puts Them at an Advantage?
Paying the minimum amount due instead of settling the total outstanding balance seems to be more convenient apparently because:
It helps the borrower to avoid late payment charges
Helps in meeting monthly expenses without compromising on important utility expenses
The borrower's account is not considered to be dormant, which would otherwise have been flagged by credit card issuers as an irregular account
Credit score remains unaffected
However, if you resort to paying the minimum amount due after reading all these benefits, you will judge the implications by seeing one side of the coin. We suggest you keep reading to understand why paying the total outstanding balance or an amount more than the minimum amount due is more beneficial.
How do Minimum Payments Affect Credit Scores?
People can fetch credit scores from a credit report issued against a borrower. This parameter is independent of one's credit limit and eventually keeps improving if a person makes timely repayments. Consistency in credit payback creates a more positive impact as it indicates that the borrower can fully repay the total outstanding balance instead of meeting the bare minimum.
Your monthly payments do not directly influence your credit score but reflect your credit utilisation ratio. Your credit score will drop temporarily if your credit utilisation ratio is high. Your credit utilisation ratio is the amount of revolving credit you're currently using divided by the total amount of revolving credit you have available. In other words, it's how much you currently owe divided by your credit limit. 
To improve your credit score you will have to improve your credit utilisation ratio.
For example, let us assume that your credit limit is ₹ 50,000. If your total outstanding balance is ₹ 20,000, your credit utilisation ratio would be 40%. You will then need to repay quickly to be eligible for further credit. Being able to carry forward a zero outstanding balance in the credit report boosts one's credit score by reducing the credit utilisation ratio.
Many credit card users prefer paying only the minimum amount due each month as they believe that their credit score stays intact. However, they should ideally maintain a credit utilisation ratio of less than 30% of their credit limit.
Experts suggest you pay more than the minimum so that a high credit utilisation ratio does not affect your credit score. Also, you may be tempted to complete additional purchases at some point or other, which will further shrink your limit.
How to Steer Clear of Minimum Payment Approach?
The minimum payment approach is adopted by many because of its short-term benefits. However, in the long run, it can hamper your credit score. Therefore breaking this habit is necessary to enable you to have a better chance of getting critical loan approvals in future. We have listed a few tips on how you can steer clear of the minimum payment approach:
Create passive sources of income: Investing in various assets or renting out your existing property will help you earn passive income.
Limit your credit card usage: It is a good practice to create a habit of borrowing only the amount which you can repay fully within the same month. This way, one can avoid paying interest and maintain a healthy credit score.
Cut down on your budget: Start with preparing a household budget. This process will help you determine all of your utility expenses. Next, prioritise the important monthly expenses and decide which ones you can do away with.
Final Word
Those who repay the total outstanding balance each month can escape paying interest and do not need to worry about a temporary reduction in credit scores. The reduction is temporary because you can improve your score by reducing your credit utilisation ratio. As credit reporting agencies keep track on your credit utilisation ratio, it is important that it is kept within acceptable limits for a healthy credit score. 
Frequently Asked Questions
Will I be charged interest upon paying the minimum amount due?
Credit card companies do not charge interest on the minimum amount due. Instead, the borrower is charged interest on the outstanding balance that they must pay by the following month. 
How do I determine the minimum amount due on my credit card?
The minimum due amount is usually 5% of the outstanding balance. This limit might vary, so you should contact your lender to know the minimum due amount on your card.
How do I maintain a healthy credit score?
The main criteria for maintaining a healthy credit score is paying the outstanding balance within the billing cycle and keeping the credit utilisation ratio low. You should also have a combination of secured and unsecured loans, which gives the lender confidence that the borrower has sufficient repayment capacity.