What Is the Minimum CIBIL Score for a Personal Loan?
7 min read • Updated 14 March 2023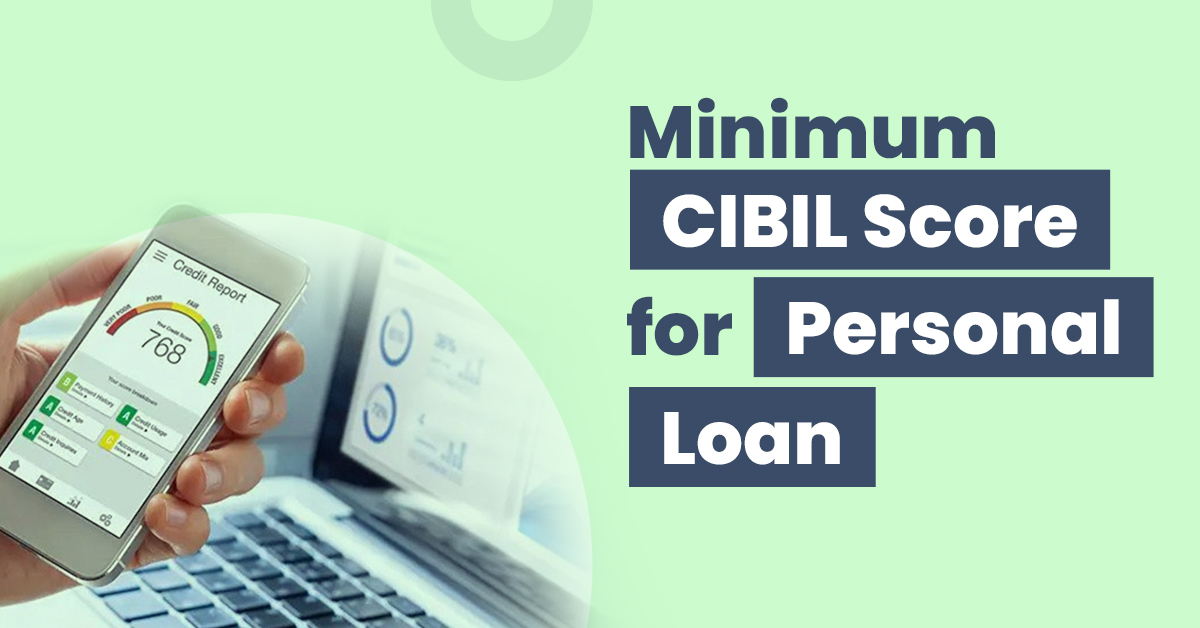 Access to different loans allows borrowers to meet different financial needs. Among these options, personal loans are considered one of the most popular funding options that aid individuals during a financial crisis. For the same, the CIBIL score becomes a determining factor when applying for such unsecured loans.
What Is the Minimum CIBIL Score for Personal Loan?
A CIBIL (Credit Information Bureau India Limited) score between 720 and 750 or above is essential as it plays a crucial role in deciding the rate of interest and loan amount that will be sanctioned. Ideally, the higher the CIBIL score, the better, as it gives an indication to the lender about an applicant's efficient credit management and timely payments.
Personal loans are unsecured financing options that do not require any collateral for fund approval. In such cases, it is quite risky from a lender's perspective to sanction funds to borrowers. This is where the CIBIL score comes into the picture. The score is a significant factor in determining a borrower's eligibility and creditworthiness for a personal loan.
Why Maintaining CIBIL Score Is Essential for Personal Loan?
An individual's CIBIL score is an accumulation of his/her credit history throughout. It comprises the record of payments made by the borrower towards the loan instalments and credit card dues. However, if an individual defaults or delays any such payment, it will significantly impact their credit report and reduce the final score.
Hence, it is essential to maintain a healthy CIBIL score for a personal loan to get access to the following benefits:
In order to determine a borrower's repayment ability, lenders assess their credit health. A borrower with a higher credit score is more likely to repay a loan, while one with a lower score is less likely to do so. Although a lower CIBIL score minimises the chances of personal loan eligibility, it does not nullify the overall chances. The credit may be offered with various terms and conditions.
Avail Higher Loan Quantum
An applicant with a higher CIBIL score will be eligible to avail of higher personal loan amounts. They will have the authority to negotiate and demand a higher loan amount, which would not be the case for the one with a low score. Lenders will extend lesser amounts to borrowers with a lower score than what they usually offer.
Get an Affordable Interest Rate
Borrowers with a higher CIBIL score for a personal loan will be in a position to negotiate with lenders to reduce the rate of interest. This is because most lenders would be inclined to offer loans to prospective borrowers with a healthy score, thereby enabling applicants to select lenders offering the most favourable interest rate.
On the contrary, borrowers with low scores will have to settle with the higher rate of interest offered by the lender.
Prompt Approval and Other Benefits
A higher CIBIL score for a personal loan accelerates the approval process and makes one eligible for acquiring a considerable loan amount at an affordable interest rate. As a result, the loan application is quickly processed and the amount is credited into the borrower's account within a shorter period. Besides, prospective borrowers can enjoy flexible repayment tenure for comfortable repayment of the loan amount.
Factors to Improve CIBIL Score
Besides knowing the importance of the CIBIL score, customers must know the factors that help improve this score:
Checking credit reports periodically is a good habit as it provides information about certain factors that are essential for credit scores. The report informs us regarding any default or delayed payments that reduce our CIBIL scores. The report further helps correct the CIBIL score if there are any errors or negative information regarding delayed or default payments. One can approach the concerned financial institution or CIBIL to get it rectified.
Limiting Credit Utilisation Ratio
Limiting the credit card utilisation ratio will prevent individuals' from negatively impacting their CIBIL scores. In contrast, not utilising credit cards at all can significantly impact borrowers' credit scores. Maintaining a balance between having credit and its utilisation is key to a good credit score. Therefore, it is always wise to pay off the dues on time.
Avail Different Types of Credit
An individual who has never applied for any loans will have no CIBIL score, thereby making it difficult for them to acquire credit in the long run. Hence, it is wise to include varied loan products in the financial portfolio, which involves a combination of secured and unsecured loans along with short-term and long-term loans to improve credit scores. Such a practice will allow borrowers to avail of substantial loan amounts at affordable interest rates when they decide to apply for credit.
Keep Application Frequency Low
Another significant way to improve the CIBIL score for a personal loan or any other financial product is to avoid applying for multiple loans in a short period of time. This will lead the concerned financial institutions to raise an inquiry to the CIBIL for the applicant's credit report which will be recorded. Such inquiries by financial institutions can significantly lower the CIBIL score as lenders consider the applicant credit hungry and the score reduces automatically.
When applying for a personal loan or any other form of credit, it is better to go for a longer repayment tenure. This makes the EMI affordable, and repayments easy. The credit score will improve when borrowers don't delay, default, or skip EMIs.
How to Check CIBIL Score for Personal Loan?
As per the instructions of the RBI, credit bureaus in the country must provide credit reports online to individuals. Moreover, individuals are permitted to check their CIBIL score for free once a year. Nonetheless, here are some of the simple steps to check the CIBIL score for a personal loan:
Step 1: Go to the CIBIL score page on the official CIBIL website.
Step 2: Submit details like PAN, date of birth, and address for identity verification. Ensure submitting error-free details.
Step 3: An OTP will be sent to the applicant's registered email address or contact number. Enter the OTP to authenticate the credentials.
Step 4: The page displayed on the screen will include debt details and other necessary information. Check and verify the details.
Step 5: Click on 'submit' and check out the CIBIL score on the dashboard.
Final Word
The entire concept of the CIBIL score is to assess whether the borrower is capable of repaying the dues on time. One must have a good CIBIL score for a personal loan to avoid rejection of the application. Lenders consider various other parameters before approving or rejecting a loan application.
Frequently Asked Questions
What are the factors that lenders check when evaluating one's personal loan eligibility?
A borrower's personal loan eligibility is evaluated on the basis of the following factors:
Repayment history
Employment and income status
Account information
CIBIL score and report
EMI to income ratio
Can I acquire a personal loan with a low CIBIL score or without the CIBIL score?
Some financial institutions approve loan applications for potential customers that are new to the financial market. Some institutions also offer loans to individuals with a low CIBIL score in exchange for higher interest rates. However, if it is not approved, borrowers can opt for collateral-based loans, i.e., funds against financial assets, such as property, gold, etc. But it is always better to improve the CIBIL score to acquire loans easily.
Do delay in payments and higher credit utilisation negatively affect credit scores?
Yes, missed or delayed EMIs significantly reduce a borrower's credit score. Hence, customers should avoid such situations. 
What are the factors impacting personal loan eligibility?
Here are the major factors impacting personal loan eligibility:
Applicant's credit profile
Income or repayment capacity of the applicant
Applied repayment tenure
Required loan amount