Apply For Home Construction Loans: Interest Rates And Features
5 min read • Updated 8 June 2023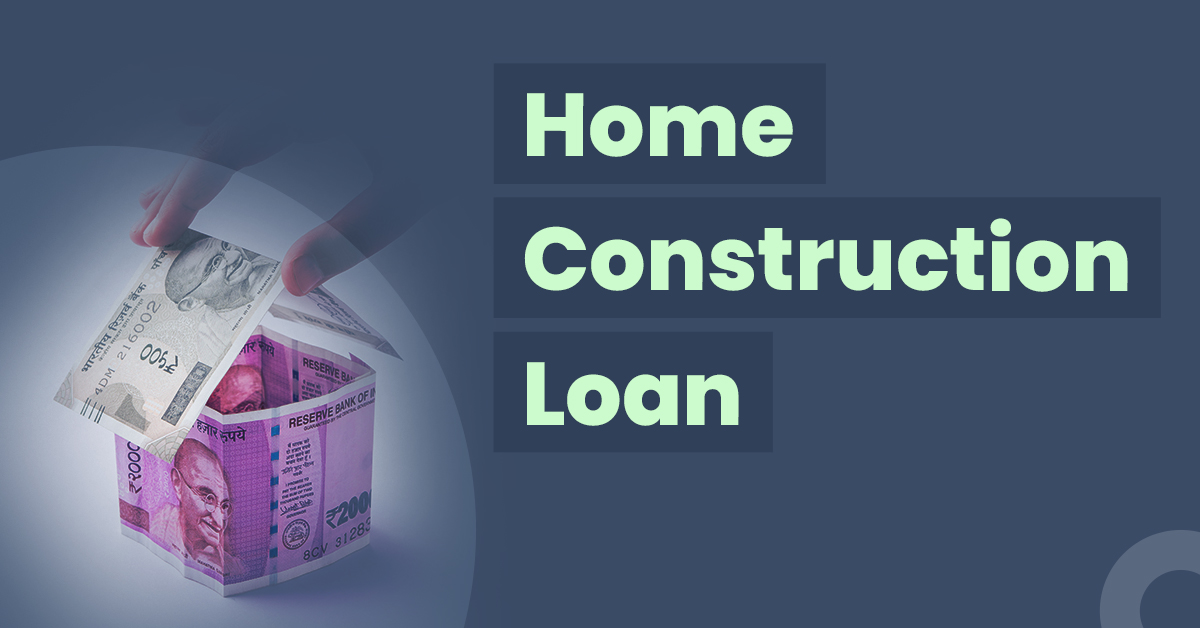 Owning a home is a dream come true for many. However, building a residential property is an expensive affair. Financial management is important when you decide to build your home. But don't worry, in this blog, we will learn how you can use a home construction loan to manage your finances. .
What is a Home Construction Loan?
A home construction loan is a short-term loan offered by banks as well as Housing Finance Companies (HFCs) for financing the construction expenses of a new residential property.
Be it the expenses incurred for planning the construction of the house or those for actually executing those plans to make them a reality, all are covered under home construction loans.
Features of a Home Construction Loan
Some key features of a home construction loan are:
Loan Tenure: These loans generally come with a loan repayment tenure of 25–30 years. The length of the repayment period primarily depends on the borrower's financial position. In general, lenders want EMIs not to exceed 50–60% of the borrower's monthly income to prevent defaults.
LTV Ratio: The Loan-To-Value (LTV) ratio refers to the percentage of the total value of the residential property that a loan can finance. The LTV ratio for home construction loans has been fixed by the Reserve Bank of India (RBI) in the following manner:
| | |
| --- | --- |
| Amount of Loan | Maximum Loan-to-Value (LTV) Ratio |
| Up to ₹30 Lakhs | Up to 90% of the construction cost |
| More than ₹30 Lakhs to ₹75 Lakhs | Up to 80% of the construction cost |
| More than ₹75 Lakhs | Up to 75% of the construction cost |
Tax Benefits: Another must-know feature of home construction loans is that they are eligible for tax benefits under the Income Tax Act. The payment made towards the principal amount of up to Rs. 1.5 lakh qualifies for a tax deduction under Section 80C of the Act, while the tax deduction of up to Rs. 2 lakh on interest payments can be claimed under Section 24. However these do also come with certain conditions and criteria, for example, Section 24 benefits can be utilised until the construction of the house is completed and the house must be completed within 5 years of taking out the loan. Please note the other criteria carefully as well.
Balance Transfer Facility: It may happen that after taking a home construction loan from a specific lender, you find better loan terms at a relatively lower interest rate. If that's the case, you need not worry, as a home construction loan comes with a balance transfer facility.
If you later find another lender offering credit at lower interest rates, you may transfer the loan from your existing lender to the new one. However, you must note that the new lender will conduct a complete credit risk assessment for your loan application before sanctioning the amount.
This brings us to our next question, what is the interest rate for home construction loans?
Home Construction Loan Interest Rates
Below, we have enlisted the interest rates of different banks and HFCs on home construction loans. It is always wise to compare the interest rates before choosing the lender:
| | |
| --- | --- |
| Lending Institutions | Interest Rate (per annum) |
| Bank of Baroda | 8.60%–10.30% |
| Bajaj Housing Finance | 8.60%–14.00% |
| HDFC Bank | 8.65%–9.35% |
| ICICI Bank | 8.95%–9.85% |
| IDFC First Bank | 8.60% onwards |
| Kotak Mahindra Bank | 8.65%–9.45% |
| LIC Housing Finance | 8.65%–10.50% |
| L&T Financial Services | 8.65%–8.75% |
| PNB Housing Finance | 8.99%–10.85% |
| State Bank of India (SBI) | 8.40%–9.40% |
| Tata Capital | 8.95% onwards |
Please note that the exact interest rate on your home construction loan primarily depends on your credit score and employment status. Interest rates are also subject to change as per the bank's policy and the prevalent repo rate.
Documents Required for Home Construction Loan
Following are the documents that are generally required by all lenders with the filled loan application form while processing your home construction loan application.
Proof of Identity: You can submit your Aadhaar Card, PAN Card, Driver's License, Voter ID, Passport, or any other government-issued document ascertaining your identity.
Proof of Address: Some commonly acceptable proofs of address include an Aadhaar Card, Passport, utility bills, etc.
Proof of Age: You can submit a copy of your Birth Certificate, Class 10th Marksheet, or Passport.
Proof of Occupation: You may submit your employment offer letter if salaried. In self-employment, you may submit documents like your company's or proprietorship's Certificate of Incorporation.
Income Proof: This can be ascertained with the help of your salary slips or Income Tax Return (ITR) filings. You may have to provide your bank statements for the past 6 months
Documents Related to Property: This would include documents like the title deed of the plot, an estimation of the construction cost, and a copy of the sanctioned construction plan.
Final Words
A home construction loan is a great way to manage your finances while constructing your home. The application process is very easy if you have all the required documents. Interest rates may change as per the lender and your credit score. Kindly conduct thorough research before finalising the lender and loan amount to get the best terms at the lowest interest rates.
Frequently Asked Questions
Can I have a co-applicant for a home construction loan?
Yes, you can have a co-applicant while applying for a home construction loan. However, please note that you must submit all the required information for all the applicants.
How much down payment do I need to make for a home construction loan?
The amount of the down payment for a home construction loan is mutually agreed upon by the borrower and lender. However, generally, it ranges between 20%–25% of the total loan value.
Can I use the home construction loan amount for the interior works of the property?
No, the funds sanctioned under the home construction loan can only be used for financing the expenses incurred for the immovable construction of the property. And thus, the loan amount cannot be used for interior works of the property
How do I receive the amount under a home construction loan: lump sum or in parts?
The release of funds under a home construction loan is done in parts by the lending institution as per the construction progress of the property.